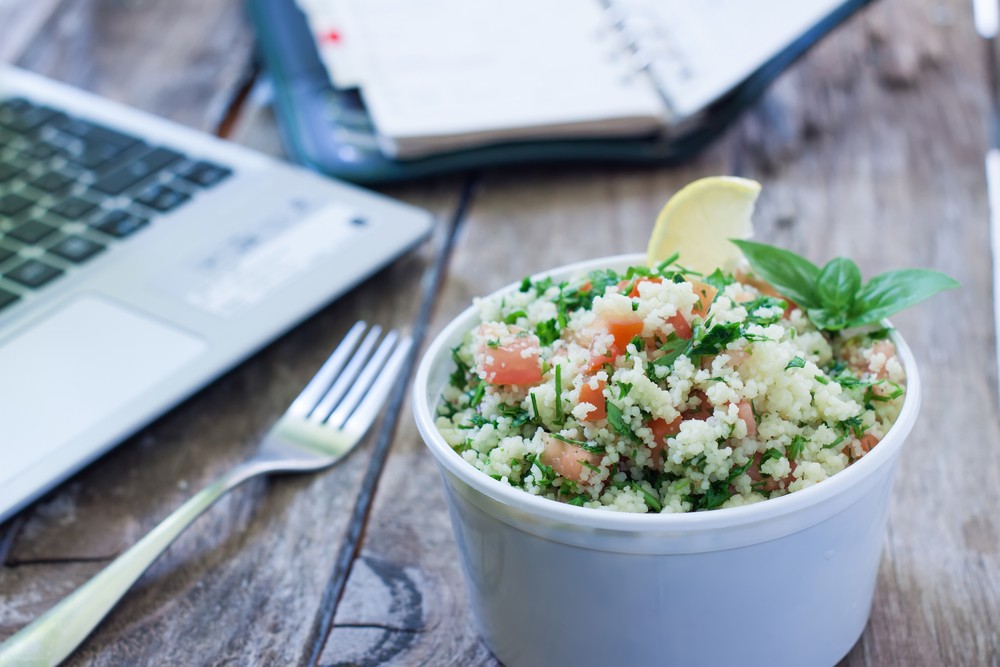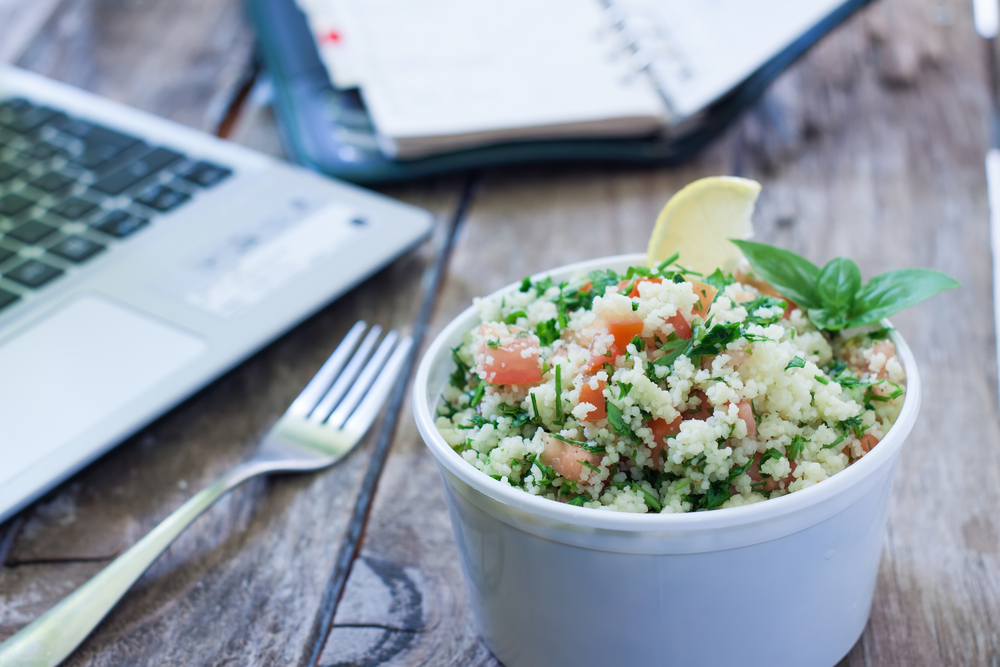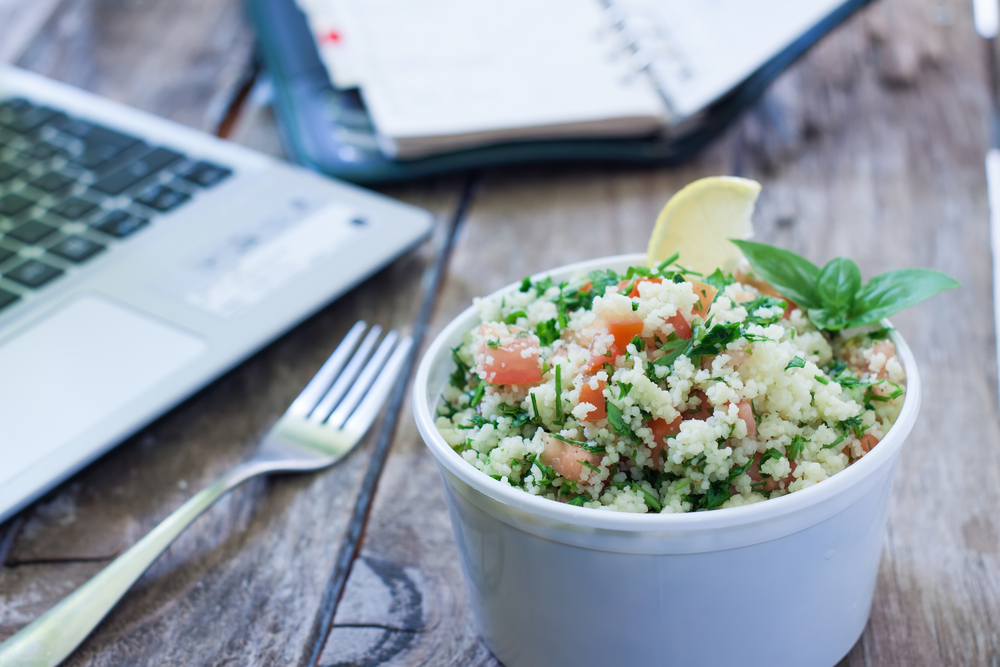 You sit at an office desk all day, making phone calls and working on "important projects," but if a healthy work lunch is not on the top of your mind, think again! If not closely monitored, this sedentary working lifestyle, coupled with access to break room treats, often leads to weight gain. Since you likely don't want to be the next executive to keel over from a midafternoon heart attack and want to stay happy at work, here are tips, tricks and expert hacks for beating office weight gain.
Avoid Potlucks
While potlucks are great opportunities to socialize with coworkers, they're also major weight gaining culprits when eating at work. From overindulging on green bean casserole to snacking all afternoon on an assortment of leftover desserts, these office gatherings can quickly derail your healthy eating habits.
If you can't resist the temptation to overindulge during office potlucks, avoid them. Tell coworkers you have an appointment at the same time as the potluck or create another excuse to avoid coming across as anti-social. Better yet, be honest regarding your efforts to avoid weight gain and suggest alternatives to recruit coworkers in your healthy eating efforts.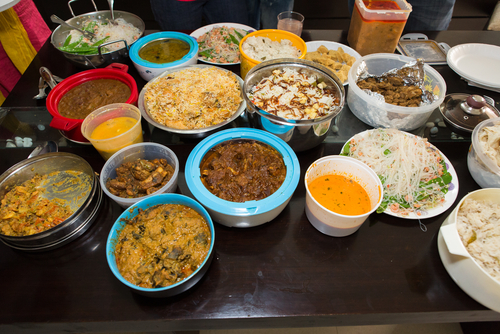 Decline Treats from Coworkers
It's standard in many companies for employees to celebrate birthdays and other special occasions by bringing treats to the office. From donuts in the morning to ice cream in the afternoon, occasional treats from coworkers can quickly add up to major pound gaining each year. Packing a healthy work lunch is the backbone of your work wellness plan.
The holidays are a particularly popular season for coworkers to leave treats in the office break room. As such, when the holidays arrive, develop a plan for avoiding the goodies. Whether reminding yourself of the excessive calories you'll consume during upcoming family gatherings or by avoiding the break room altogether, this plan will help you avoid the average holiday weight gain.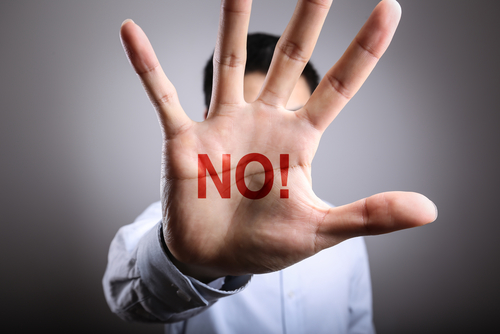 Reduce Stress
Stress is a major culprit of weight gain. Your job consumes much of your weekly schedule and, if it's causing an unnecessary amount of stress, it's likely affecting your health in several ways. If your job is causing excessive stress which, in turn, is leading you to eat unhealthy snack foods, find a way to reduce that stress. This can involve creating a more balanced schedule, asking management for a reduced workload or, in extreme situations, finding a new job.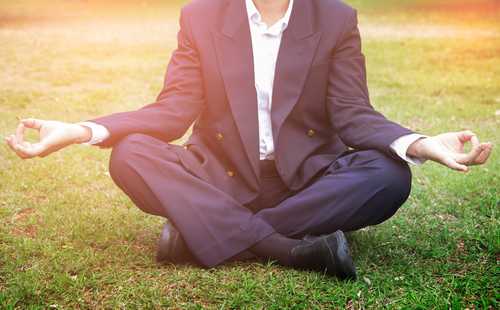 Pack a Lunch
After a busy morning at work, many starving employees rush from their workplaces to the nearest fast food joint. While this is a quick way to grab a meal between lunchtime errands, it's also a quick way to pack on some pounds. Rather than following the fast food trend, pack a lunch each day. This will offer a reason to avoid the temptation of dining out and, if packed properly, can keep your diet in check.
The workplace is where many employees partake in their unhealthiest habits. From coworker birthday celebrations to office potlucks, temptations abound and are often difficult to resist. However, by creating a plan to avoid the temptations, you can maintain healthy eating habits as well as a slim waistline.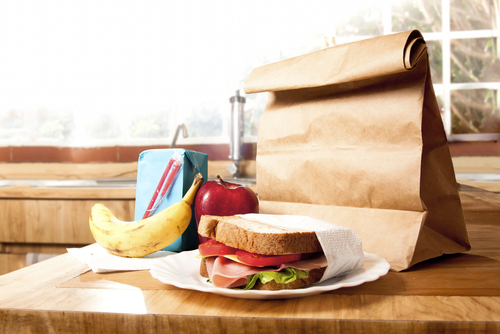 Healthy Food to Take to Work for Lunch
If your eating at work office habits are composed solely of the sugar, fat and caffeine food groups, maybe it's time to mix it up. A healthy work lunch isn't far away.
1.      Almonds – No, not those smoked salty things. Try the plain, roasted ones. Nuts are not the new rice cakes, but they are good for you.
2.      Low-fat string cheese – I don't know where I've been, but these things are genius. Add a sliced apple on the side.
3.      Low-fat dips for veggies and fruit. (OMG, Vickie, I need the recipe for that pumpkin dip for apples, uh, NOT ginger snaps!)
4.      Low-salt, low-fat pita chips and white bean dip or hummus.
5.      Bring your own chef salad (no gray mystery meat from the caf.) and homemade dressing. Oil and vinegar are easy, kids.
6.      Roasted red peppers and less-fat goat cheese in a pita pocket.
7.      Trail mix – The one with chocolate chips as the main ingredient does not count. Get a heavy concentration of dried fruit and nuts.
8.       Pasta salad with roasted cherry tomatoes, fresh spinach, kalamata olives and a light mayo mixed with a little oil and vinegar (see above).
9.      Soups that aren't cream-based.
10.  Cheese pizza. OK, not the healthiest, but losing the meat (Is there really one with 5 meats?) is a start.
You may be thinking that your busy life cannot possibly accommodate making some of the above in your off time. But make a boatload of it on the weekend and eat it (and share) all week.
Healthy Work Lunch Ideas
Jenn Espinosa-Goswami, a private health coach and cube-dweller who dropped over 100 lbs. 15 years ago (and has kept it off!), shares the following:
Gone are the days of eating boring, cardboard chicken with steamed & tasteless veggies. Just because you're stuck in a cube does NOT mean you are stuck in food purgatory!
Lunch item #1: Tandoor chicken with tomato cucumber salad
Marinate chicken tenders in plain Greek yogurt with tandoor spice (available at Asian markets). Grill or bake until chicken is cooked. Chop tomatoes, cucumber and onion (optional) and have on the side with cooked basmati rice.
Lunch item #2: Asian sesame noodles (vegetarian). Cook soba noodles according to directions. In a bowl, combine
– 1/4 cup low sodium soy sauce
– 1 TB fresh lime juice
– 2 tsp freshly grated ginger
– 2 garlic gloves
– 2 tsp sesame oil
– 3 tsp rice vinegar
– 1 tsp honey
Add shredded cabbage, carrot and chicken or baked tofu to noodles. Pour sauce over top.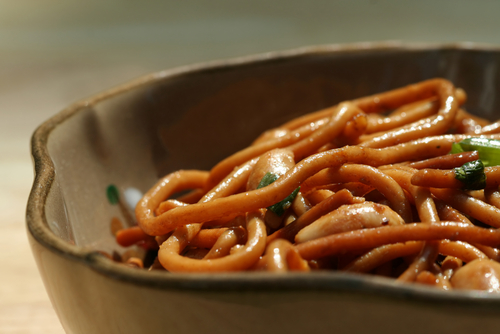 Lunch item #3: Pork carnitas tacos
Add pork shoulder or loin to crock pot. Add orange juice, cumin, chili pepper, garlic and water. Cook on low setting for 7 hours (overnight)
Pack corn tortillas, onions, tomatoes, green onions and/or cheese, assemble with pork.
Real food meal planning expert Malisa Lieser shares the following healthy lunch tips:
Loaded baked potato: Pre-bake potatoes or sweet potatoes, and put some simple toppings into a container to put on top. Diced chicken or ground beef, black beans, salsa, cheese and jalapenos for a Mexican take, or Italian sausage with bruschetta topping for Italian.
Homemade soup/chili: Make a batch on the weekend, divide into bowls, and you've got lunches for a week!
Snack plate: Load up a divided container with cheese, lunch meat, veggies, hummus, nuts, fruit, olives, crackers, etc. for an easy, variety-filled lunch.
Avocado egg salad in pepper cups: Healthy (mayo-free), delicious and nutritious.
Quinoa Bowl: Pre-make quinoa and roasted veggies, then compile into a bowl with a protein, some avocado and sauce/dressing of choice.
Turkey/ham/roast beef roll-ups: roll your favorite sandwich toppings in deli meat for a low-carb, healthy "sandwich." Include healthy fat like avocado to help you stay full longer.
Malisa also has these pro tips for healthy work lunches:
Use leftovers for lunches. Plan ahead and make a few big meals each week so you don't have to think about what to make for lunch the next morning. Most offices have a microwave that you can use to heat them up.
Put lunches in portioned out dishes in your fridge so you can grab and go. When dishing out leftovers, put them in individual portions so it's all ready to go in the morning. Or, when planning lunches, make them all on the weekend and store in glass containers.
Take 1 hour on the weekend to prep food. Cook frozen turkey burgers, make salads, roast vegetables, boil eggs. Throwing together a quick, healthy lunch will be easy with those things pre-made!
Make a shopping list and meal plan (even for just a few meals a week). Planning is a key factor in being successful with bringing your own lunch to work. Make a grocery list, shop/online shop on the weekend, and spend that 1 hour prepping for the week on a

Saturday

or

Sunday

to make your week much smoother, and much less expensive. Going out to eat costs a lot of money!
Buy pre-portioned and pre-made items. Individual guacamole cups, meat/cheese packs, pre-chopped veggies, etc. make your life easier.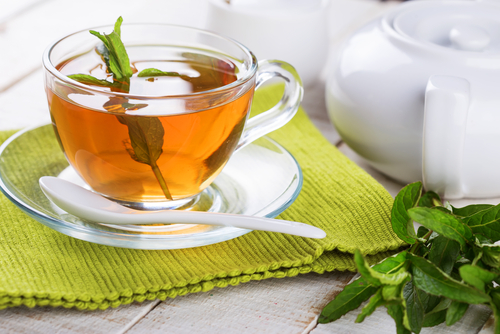 Tips to Stay Healthy at Work
Aside from a controlled diet, there are other ways to stay healthy at work:
Do you want to stay healthy but find it hard to do so whilst working in an office? If so, here are a few ideas that I use that you may find helpful:
1. Drink Herbal Teas Or Water
Staying hydrated is essential for your health. I only drink herbal teas and water at work and this saves on buying milk for tea and coffee, reduces my caffeine intake and ensures I stay hydrated. I have one or two cups of tea and/or coffee after work but by only drinking water and herbal teas at work I have made this a regular habit.
2. Take A Break
It is so good for your mental and physical wellbeing to take a break each day you are at work. Taking a break means you have some rejuvenation time in your day, it enhances your productivity when you are back at work and can help to reduce the chances of feeling burnout at work. However, it can be easy to get into the bad habit of working through your breaks.
Every full-time worker that works though a one hour lunch break every day is putting in five hours a week unpaid overtime. Of course, it is good to help out in an emergency full-timed but if it seems like there is an emergency every day; it is time for a change! Get outside, go for a walk or meet a friend for a coffee. Creating a lunch break that inspires and relaxes you will pay dividends for you and your job!
3.  Protect your eyes
When working in an office it is easy to put a strain upon your eyes when using computers and doing paperwork. Many companies offer subsidized or free eye tests for office staff. It is worth making sure you have the correct glasses/contact lenses and making sure you have time away from the computer regularly to protect your eyes and eyesight.
4. Leave On Time
I know this might seem like an obvious point but many people regularly do unpaid overtime, which can erode your work life balance and leave you feeling less than healthy about your job and life in general. If you are required to do overtime regularly, it is worth trying to create an arrangement with your manager so that you get remunerated or time off in lieu as a result. The off bit of unpaid overtime isn't a huge deal but it is amazing how quickly it can become more and cause problems if left unmanaged!
Exercise and Work Productivity
Wondering how exercise helps you and how it can help make work better? Read on!
What's your favorite way to work out? Yoga? Weightlifting? Walking? Shooting hoops? Whatever it is, odds are you know most of its benefits. It's fun, it feels good and it makes you healthy. But here's another benefit that may not have occurred to you. It'll increase your productivity and make it more likely that you will succeed in your chosen line of work. I'm not joking. Improving your mental health is bound to cause your productivity to soar. And research shows that taking the time to exercise improves your mental health, not only your physical health. In fact, studies show that exercising will increase your productivity the very same day (assuming that you exercise in the morning or at lunchtime, rather than after work). Here are a few reasons how exercise helps you:
Exercise oxygenates your brain, which uses about 20 percent of the oxygen that you inhale in each breath. Exercising causes your heart to beat faster, which means that your blood makes a circuit of the entire body more times in one minute than it does when you are at rest. Your blood is your brain's source for oxygen – when the blood circulates to the brain more often, the brain gets more oxygen. Exercising also causes you to breathe more deeply, taking in more oxygen with each breath. Oxygenating the brain is a key way to keep it healthy and to keep yourself focused and at your mental peak. "Any kind of exercise will keep blood flowing to your brain, and there is evidence it may help new brain cells grow," according to Gino Colombara, who directs the Southeastern Virginia chapter of the Alzheimer's Association. (Johnson, Alison, "Exercising your body good for your brain, too," The Edmonton Journal).
Exercise reduces fatigue and increases energy, even in people who are suffering from chronic fatigue syndrome. According to University of Georgia researchers, 90 percent of studies show that exercise reduces fatigue, especially in people who were previously sedentary and then began to exercise even moderately. "We live in a society where people are always looking for the next sports drink, energy bar, or cup of coffee that will give them the extra edge to get through the day," UGA researcher Tim Puetz told WebMD. (Warner, Jennifer, "Exercise fights fatigue, boosts energy," WebMD). "But it may be that lacing up your tennis shoes and getting out and doing some physical activity every morning can provide that spark of energy that people are looking for." When you are feeling tired, UGA researchers stressed, even just a little bit of exercise can help a lot – even if you don't feel like doing it right away. Two years after talking to WebMD, UGA researchers did another study. This one showed that regular mild exercise can increase energy levels by 20 percent and reduce fatigue by 65 percent – making exercise the best pick-me-up around ("Low-intensity exercise reduces fatigue symptoms by 65 percent, study finds," UGA Office of Public Affairs News Service).How exercise helps you also includes…
Exercise reduces depression and anxiety, so much so that researchers from Southern Methodist University recently argued that mental health care providers should be prescribing exercise therapy to their anxious or depressed patients. ("Mental health providers should prescribe exercise more often for depression, anxiety, research suggests." Science Daily). Anxiety and depression are two of the greatest productivity-sappers a person can face, and most job hunters are prone to both maladies. According to researcher Jasper Smits, who directs SMU's Anxiety Research and Treatment Program, exercise is a good form of treatment for people who – like most people who are looking for work – can't afford antidepressants. "Exercise can fill the gap for people who can't receive traditional therapies because of cost or lack of access, or who don't want to because of the perceived social stigma associated with these treatments," Smits told Science Daily. He went on to note that exercise can also help patients to "become more focused and engaged." You don't have to exercise for weeks to start to experience the mood-improving benefits of exercise. Just 25 minutes of exercise can immediately make you feel less stressed, improve your mood and give you more energy – energy that you can make use of today.
Exercise helps keep your mind, body, and spirit in balance. I know this one may sound crazy if you are not familiar with the concept of mind-body-spirit balance. But it's not healthy to be always living in your head. Many people in today's world say that they don't know who they are. Some people describe feeling as though they are sitting on their own shoulders, observing themselves as they go through life. Does this feeling sound familiar? If it does, exercising regularly can help. Exercising, especially forms of exercise that emphasize the role of meditation and the mind, such as yoga and martial arts, brings a person back into the body. This experience of bringing yourself into the body is called grounding. "Grounding, being grounded, is establishing a dialogue to the present moment using our physical surroundings as the point of reference," says yoga teacher John Kortmulder of Mount Kisco, New York. He explains that yoga brings the mind's attention away from thoughts and back to the body, to physical awareness – bringing the awareness out of the head and into the present moment.
Exercise may also improve your chances of being hired for a particular job. Businesspeople are well aware that employees who exercise are more productive. Many businesses put fitness facilities in the workplace deliberately to make it easier for employees to exercise – because they know that exercise improves productivity so much that improving employee fitness can make a business more efficient – and more profitable. Businesspeople also know that fit employees can reduce the amount a business must spend on health insurance. According to Dr. David Heber, who directs the Center for Human Nutrition at UCLA, "Having people take better care of themselves is one of the best ways of reducing the costs of health care coverage." ("Healthy options: how nutrition and exercise can increase productivity and lower health care costs," Insights Executive Health).
Whether or not you are employed at the moment, build good habits while you have the time. Make a habit of exercising regularly. You won't be sorry.
If you've made it this far, you obviously care about yourself. A healthy work lunch is a foundation to build your work wellness plan. Start small and achieve big results.
Your tips are welcome in our comments section.