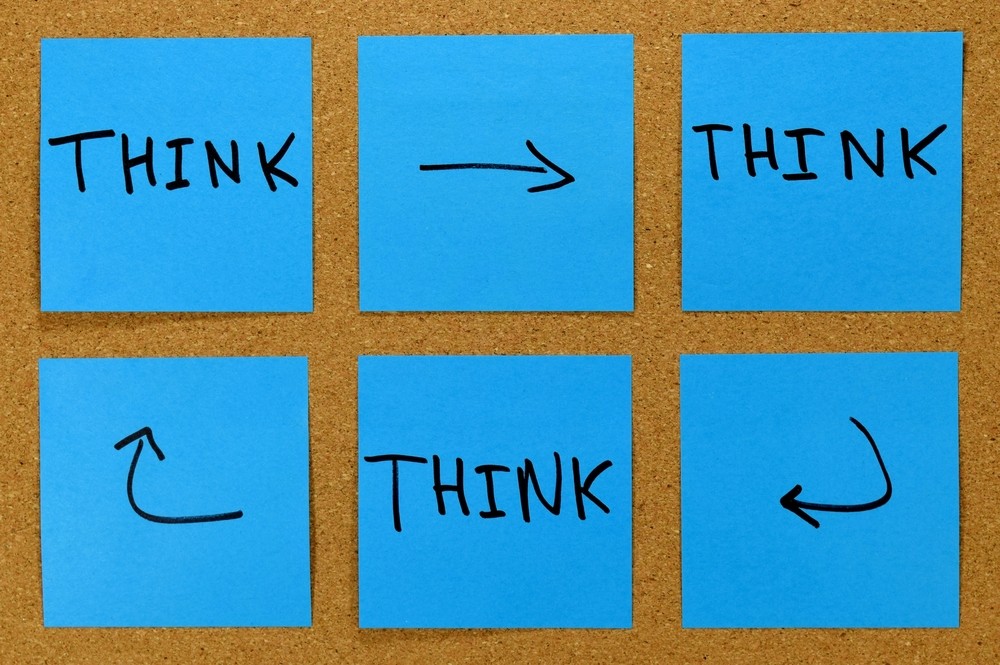 How do you learn how to stop overthinking? It might seem incredibly complicated trying to teach our brains something different than they're used to, but it is possible. That's why we're putting together the ultimate practical guide to quit overthinking for good!
A Case of Overthinking
First, we have to understand what it means to overthink. So let's see what it takes to come down with a case of thinking too much…
Have you ever heard that sometimes we can our own worst enemies? That has never been more than when it comes to overthinking. Do you suffer from a case of "overthink"? Well, you might if you relate to any of these situations:
Do you ever come home from work and agonize over something you said to your boss, or even your coworker, in a meeting?

Does your finger hover over the "send" button before you shoot your manager a fairly innocuous e-mail?

Do you keep yourself up at night wondering what someone thinks about it, if you did the right thing, or if what you said came off in the wrong way?

Have you spent hours making "pros vs cons" lists, and less time actually acting on the decisions you're weighing?
Do any of these sound familiar? Well, that might just mean you're suffering from a classic case of overthinking. It's not that bad, though, as it's something that plagues so many of us. Overthinking things come naturally to empathetic humans, where we want to make sure we are constantly communicating exactly what we mean at all times.
The problem with overthinking is when it happens so much that you're kept from actually making a decision. Sure, we're allowed to wonder if we said the right thing when we commented on our coworker's ugly new dress shirt, but it shouldn't keep us up at night too much. Stop overthinking!
"The more you overthink the less you will understand" – Habeeb Akande
Bottom Line: Overthinking isn't some sort of flaw, it's actually a byproduct of empathy. If you care what others think of you, that's good – it means you're human. Being human is good.
How Overthinking Can Hurt
If you think too hard about what you're saying, and how it's coming across, you might never get anything done. The stress involved with overthink can be massive, especially if you take things too far. If you allow it to affect your personal life, for instance, you might miss out on taking risks and saying things you actually mean – all because you're worried how it might sound.
Overthinking, at its worst, is an aversion to risks. It means that you're so busy thinking, that you aren't able to make a decision and ACT on something. Whether it's contributing your ideas, asking for a raise, or even quitting, when you overthink things you're just distracting yourself from what might be a painful – but productive – decision.
"Thinking too much leads to paralysis by analysis. It's important to think things through, but many use thinking as a means of avoiding action" – Robert Herjavec
Key Insight: Learning how to overcome "paralysis by analysis" is exactly how you can learn to stop overthinking in your day-to-day life.

How Can I Stop Overthinking?
There's truly no way to stop overthinking altogether, it's simply going to happen. What you need to do is learn how to handle overthinking when it comes up. That's what this practical guide is all about, to set you up for success so that you can handle when your brain goes into overthink-mode.
Take a breath and try practicing these 5 simple steps to learn how to stop overthinking…
Keep Things In Perspective
Overthinking is all about focusing on small, minute details that really have no bearing on the big picture. Try and keep this in mind when you feel yourself overthinking. Do you really think that the tone you took when you offered your boss coffee is going to hurt your career in the long run? Try thinking about your latest contributions at work, how valuable you are and where you stand in the company. Saying "cup o' joe, boss man?" might not seem so bad any longer.
"When you are in a bad mood of some type — depressed, anxious, just altogether upset — your bad mood tends to trigger a cascade of thoughts associated with your mood. These thoughts may have nothing to do with the incident that put you into a bad mood in the first place, as when a poor job performance causes you to think about your aunt who died last year" – Dr. Susan Nolan-Hoeksema
Challenge Yourself
Don't let yourself get away with overthinking. So, instead of focusing on the positive, try calling yourself out on these things. That doesn't mean you need to talk down to yourself, but it does mean that you really need to take a hard line on whether or not some of these things really matter. Just tell yourself "stop" and move on. 
Learn To Let Go
Now that sound like a big task, and not very practical – but it can be done. Figure out how to stop overthinking by letting go of the little things. Haven't you ever heard how important it is not to sweat the small stuff? Try and let go of the things that are bogging you down. Send e-mails with no fear, ask the receptionist out to drinks after work or go into your boss' office and ask for a raise. Let go of the idea that people are watching you, and you'll learn not to keep such a sharp eye on yourself, too.
Move It
Yes, working out helps when it comes to ditching your overthinking. When your body is in motion, you tend to forget about the things that are keeping you down. But it doesn't have to be all about exercising. If that's not your thing, try and focus on something else instead. Distract yourself with computer games (Tetris, for instance), listening to podcasts or trying new things (like cooking, cleaning, knitting or writing). If not your body, move your mind!
Make A Plan And ACT
What's the most practical advice we can give? Well, it centers around ditching the pro's and the con's and simply making a decision. If you've followed all of the previous steps up to this point, you are going to be able to make a decision and act upon it without fear. Being practical is all about doing something, and learning how to stop overthinking is all about no thinking at all – just do it.
Underthink Overthinking
Overthinking doesn't have to be some scary, depressing problem that you have to live with – because we all do it from time to time. The less you view overthinking as a problem, the less impactful it is going to be in your life.
Spend less time on overthinking, and spend more time on underthinking and just doing some things in your life. There are bigger problems to worry about than e-mail etiquette, and there are plenty of practical solutions you can pay attention to if you're actually concerned. It's a quick and easy fix, and it's exactly how you learn how to stop overthinking today.
Keep on fighting the good fight, and learn how to stop overthinking by using everything you've learned in this practical guide today!