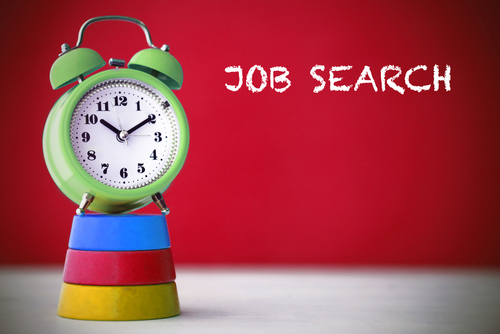 Are you preparing to start 2017 looking for job search advice? Most people assume that figuring out how to look for jobs is the main component of the job search – but it's so much more! There are so many trends, best practices and other factors shaping the job search market, it can almost be overwhelming at times. The best job searching tips are the ones that come from experience, though, and we've got advice for those heading into the New Year looking for a change of professional scenery.
The Best Job Search Advice: start with a blank canvas!
Dig up your old resume, dust it off and throw it in the trash – you won't be needing it where we're going. The best job search advice we can give is that if you're starting off the New Year looking for a new job, start things off with a big-picture approach to your career goals. This means ditching your old "tried and true" resume, and writing something completely new. Perspective is key, though, so think back to all you've done in the previous years, and craft a resume which really speaks to your abilities. Your resume is going to be the foundation for your job search in 2017, so it better be good. Make sure that you include:
Impact statements: detailing what you've done, who it affected and to what degree it changed their lives

A breakdown of achievements, promotions, certificates and awards that you enjoyed at your last job (this is especially important if you've been working somewhere for a long time).

A full timeline of where you've been, professionally-speaking. The last thing a potential employer is going to want to see is gaps in your resume – that's a big no-no.
2017 Job Trends
As the years go by, new ways to job search become more and more prevalent. In 2017, in particular, we're expected to see a rise in online tools and resources for people to source candidates, conduct interviews and train potential employees. To find out how to look for jobs, and what to expect, pay attention to these trends:
Social Sharing
Companies are becoming smarter with leveraging how much they advertise positions, and what only gets internally posted. Thanks to sites like Facebook, companies can use employee's social profiles to help them share job postings. This means that you should be active and listening on multiple social media sites, like Facebook, which feature job boards across the world. Employees are now the ones posting jobs, on behalf of their employers, to give their employers that "human touch" that they need to get exactly the right candidate in through the door.
Digital Recruiters
The rise of social media has also given new life to the recruitment agency! Recruiters now use sites like LinkedIn, and others, to find potential candidates for all types of jobs (whether entry or high-profile). The best job search advice you can get is to remain active on these platforms so that you can be seen by all those looking to hire for key roles in your industry. More and more recruiters are getting in on the action, so it isn't just a place for high-tech roles any longer. There are positions of all kinds, so what's stopping you from going online?

The Rise of Video Conferencing
It used to be Skype, but now there are many more video conferencing services – most of which are quite easy to use, frankly. Companies are now making more room for video conferencing services, in order to conduct interviews outside of office hours. This means not having to make a "doctor's appointment" to head out to a potential interview any longer, instead, you can appear online from the comfort of your own home. This is becoming more of a reality for many job seekers and is appearing as one of the most important 2017 job trends on the rise.
Assessments of All Kinds
The world of IQ tests is back, and more companies are embracing the value of personality tests and assessments of all kinds. This, obviously, provides employers with a better sense of how you handle things under pressure, and the kind of worker you are. Beyond IQ tests, though, are personality tests. Company culture has become so important for employers, that the best job search advice is often impossible to provide universally: how do you exercise fit? "Fitting in" to a company's culture is often what gets you the job, and that's becoming way more important. All in all, this comes down to two key words: be yourself.
Job search advice in 2017 starts with a blank slate, but it includes more and more technology in a changing world. Employers are adding more steps to the job search process, but they're also making it easier for potential employees to interview and showcase their abilities. Good luck on the hunt!