Recruiting firm relationships are a key part of any career if you're good at your job! After all, you're going to be in high demand! Figuring out how to respond to recruiters, how to let them know the information they want to hear and how to best maintain that relationship is incredibly important. Whether you're looking to switch things up, or have nothing to do at work and want to get a leg up on the competition. Let's get started and let's get recruited…

What is a recruiting firm?
In case you were wondering, a recruiter's definition is someone who is hired by a company to find the best possible candidate for a position. There are recruitment agencies of all kinds, some who go in direct partnership with companies, and others who take on specific roles for companies (in hopes of getting more business down the road). The recruitment industry is an industry unto itself, and so there are multiple companies hiring for all kinds of roles – everyone from accountants to creatives to physiotherapists. If you think the work you do isn't being recruited for, there is a good chance that you're wrong!
What does an average recruiting firm do to start a job search?
Source, source, source. Recruiters do a lot of sourcing, which means that they spend time online looking for candidates who would be a good fit for a position. This means searching specific academic institutions, other companies and generally looking for people with skills related to what the company wants (and typically the company looking to fill the job asks for a lot). Thanks to the introduction of job sites like LinkedIn, it has never been easier for recruiters looking for people to fill roles they're hiring for – it's as easy as clicking a mouse. This means that if you're trying to be found by recruiters, you're going to need a LinkedIn profile – and you're going to need a good (or great) profile — that's is a conversation for another day.
How will a recruiting firm contact me?
Recruiters use sites like LinkedIn to introduce themselves to candidates and to briefly outline the role they're hiring for and the main benefits. Typically, this will appear like a message that has been sent over a hundred times — because it has! Recruiters can contact hundreds and hundreds of people in hopes of filling just one job, so they can't personalize messages to every single person they're interested in hiring. This is one of the main hurdles which gets in the way of candidate and recruiter relationships and is something you need to consider. Just because a recruiter is sending out a message that looks standard doesn't mean that they'll continue to respond with standard messages. The rate of response is typically very low for positions, so responding will endear you to a recruiter — especially if you respond the right way.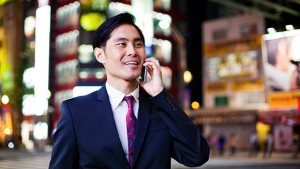 What do I need to tell a recruiting firm?
A recruiter is almost always going to want to set up a time to speak on the phone, and will only use e-mail or text-based communications for the first few correspondences. It is important for them to get a handle on who you are, and the easiest way to do that is to see how you conduct yourself over the phone. In text, though, it is:
Always important to respond to a recruiter, and to respond to them quickly. Chances are you know whether or not you're looking for new opportunities, so why keep them waiting?

Respond honestly to a recruiter about your intentions. If you're looking for a new career, tell them! They're not going to be the ones hiring you at the end of the day, so don't feel self-conscious about telling them what you're looking for — especially during the first conversation, context is super important.

Letting them know how much you're making, the benefits of your job, your vacation time (per year) and any other "bonuses" of where you work (location, etc) is important. This will give the recruiter an idea of the kind of offer which might sway you — an "offer you can't refuse" to quote the Godfather.
What if I'm not interested in a role, but still want them to maintain recruiter relationships?
A recruiter is less likely to consider you for future roles if you hit them with the old "thanks but no thanks" response. If you want to manage recruiter relationships effectively, you're going to want to keep them around. If you feel like the job they're recruiting for isn't a fit for you, or you just don't like it, you should tell them what you're looking for, in what industry and perhaps even for specific companies. Don't leave recruiters wondering, let them know what you want!
Whether you're looking for a new job or simply seeing if you're fit for a change, handling relationships with recruiters is an exercise in your people skills. They're workers, too, and they're just trying to do what they've been hired to do: find the perfect people for jobs across the world. Never dismiss these opportunities, as they might just have the ability to change your life!