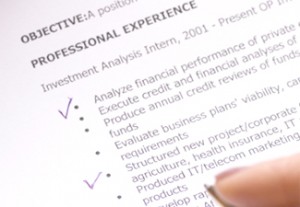 Employers can read up to a hundred resumes a day and it can be a very tedious job. Looking at a bunch of resumes that all look the same, which all apply for the same job and use the same CV jargon – this could bore anyone. If after 15 seconds the employer is bored of reading your resume, they will stop reading it and move on to the next. So they key is to make sure your resume grabs their attention within seconds of them glancing at it. Graduate Recruitment Bureau offers some easy tips on how to boost your CV to make yours stand out and get you that job:
Proofread
The most simple of all the steps, but easily forgotten. Always make sure to proofread your resume, because as soon as an employer spots a grammatical error or a spelling mistake, it's game over. Your resume will immediately be ignored as it shows carelessness and unprofessionalism. Proofread several times and get a family member or friend to read it to check for any mistakes too, just to be on the safe side.
Contact
Make sure you are easily contactable. At the top of your resume where your name will be, ensure to put your home address, mobile number and email address underneath. It is also advisory to provide links to your LinkedIn and Twitter profiles in this section too. Many resumes are now looked at online and there is a rise in demand for students to be active on social media, so if you have either of these social media profiles, it is definitely worth putting them on your resume.
Employment
Employers are not interested in your life story, so don't include every job you've ever had unless they are relevant to the job you are applying for. This means your previous job as a babysitter may not be entirely necessary to put on a resume, unless you intend to work with children as a career. Showing you have had a range of work experience is always favourable to employers, but they want to know whether your work experience could benefit their company so keep everything relevant. For instance, working part time in a hair salon may interest employers in the hospitality industry as it shows you can work with people, but not so much if you are applying for a role in banking. Before listing your work experience, always ask yourself, 'would this be of interest or benefit to the employer?'
Layout
The saying, 'save the best until last' does not apply to resumes. Imagine the sections of a CV like a heat map: The top is red as it receives the most attention, and then gradually turns to blue as it gets the least attention. You want to grab the employer's attention within seconds of them reading it, so always list your best achievements and skills at the top of these sections. You need to make them think you are what they are looking for, so always think how you can make the layout of your resume as eye catching as possible.
Also make sure to list your skills and tasks you carried out in your work experience in bullet points. This makes your resume appear clear and concise and makes the information easy to digest for the employer when reading it.