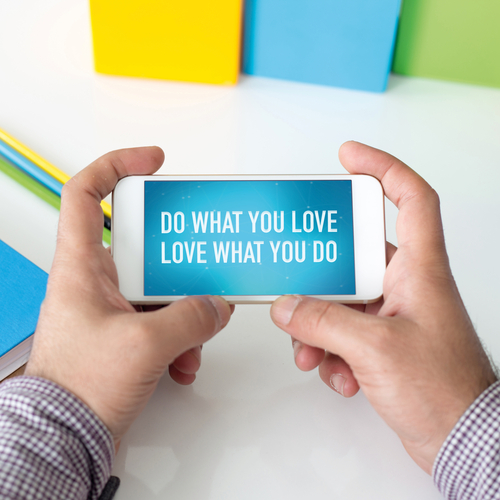 It's heartbreaking to think of the number of people who go to work day after day, year after year, and absolutely hate their jobs. Most people push down their distaste and apply themselves to "the grind," hoping that someday they'll magically fall into a job that they truly love.
But finding your passion in life and working in a job you love is not something that happens by accident. The people who are working in jobs they love have worked hard to get there, dropping hints and making their true desires known along the way. If you're wondering, "How do I find my passion?" and how to transition to a career that's more in line with it, here's what you need to know.
If you're wondering, "How do I find my passion?" and how to transition to a career that's more in line with it, here's what you need to know.
How to identify your passion
Sometimes passion is obvious, sometimes it lurks beneath the surface, just waiting to be uncovered. Awhile back, we shared an article about side hustle ideas that fit your passion that can help you with finding your passion in life and also determining how to monetize it.
The best thing about side hustles is that you can start them while you're at your current job, and build them into a full-time opportunity if that's the route you're interested in. If you'd rather be gainfully employed at a company with benefits, a side hustle can still help you bridge the gap between the experience you want and the experience you need.
Lead with your passion, not your current title
If you're in a role where you're in the position to attend networking events on a regular basis, use it to your advantage. Instead of introducing yourself with your current title, start by telling your new acquaintance what you're most excited about. It doesn't matter how specific the industry is – everyone knows someone who could potentially help you on your journey!

If you're attending an event on your company's dime, it's unethical to completely ignore your current role. But there's no reason why you can't talk about both!
Make sure to grab cards and follow up with those you meet after the event. Email or add them to your LinkedIn network. Most people are sympathetic to those who haven't found their perfect job fit, and may be willing to help you move to something that's more appropriate. Don't underestimate the goodness in other people – and a powerful network built up over time!
Don't be surprised to find help in many corners of your life when you tell everyone around you that you're working towards finding your passion in life. Family, friends, coworkers, and even random acquaintances will likely start coming forward with opportunities if you're honest with what you truly want! Just remember to give as much as you get – it's good karma.
Share updates regarding your passion
Once you've completed the process of finding your passion in life and have started to build your network by leading new conversations with your passion (not your current title), it's time to show people how committed and knowledgeable you are.
Optimize your LinkedIn profile with keywords and relevant examples of projects completed relating to your true passion. These are the foundational steps for connecting with more people that can support your passion. Besides passively inviting new connections, you should also be nurturing your existing network with updates related to your passion.
A few ideas for updates relating to finding your passion in life:
Blog posts that show an interest and expertise in your passion

Curated content/links that show you pay attention to news and trends related to your passion

Promoting industry leaders and friends with the hope that someday they may return the favor
If you're still in the process of finding your passion in life, it helps to create long-term relationships. By constantly dripping out relevant content, you make yourself top of mind when a job opportunity or consulting project relevant to your passion becomes available.
Perception is reality. Even if you don't have a lot of relevant samples, you'll still be associated with expertise relating to finding your passion in life.
Use other people's audiences
Besides sharing relevant content, creating content (like blog posts) can help you to become associated with your passion as an expert. Having your own content hub or portfolio website can help you distinguish yourself from others.
If you're currently employed, it's something that's great to work on in the background. You can add to it piece by piece so that you're generating awareness for yourself before you're ready to move on to the next thing.
Besides your own content hub, take advantage of someone else's audience. Try guest posting on other relevant industry blogs. Share your knowledge in a way that gets people intrigued to learn more about you. Include links back to your own online presence so people can follow you and potentially hire you!
Be bold
If you've got a bit of a cushion money-wise, and you've started to make your intentions known – why waste any more time in a job you don't love?
Bold moves, like quitting your job to find something you truly love, are often met with positive support from your network. You may even find that they're really cheering you on, and the path to finding your passion in life will be accelerated by help in all the right places.
So are you ready to start finding your passion in life? Have you figured out what makes you excited to get out of bed in the morning? Share your thoughts in the comments below so you can take your first step towards finding something you truly love to do!