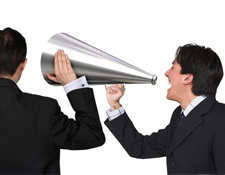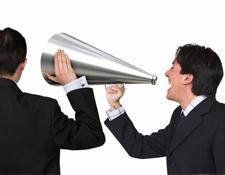 Good communication skills are vital for us to thrive in (most) work places, but how well do we really communicate? Answering this question and working on the areas that need attention can pay big dividends.
Self Assessment
If you would like to enhance your communication skills, take some time to honestly assess yourself. This can be a difficult task and may involve a lot of soul searching however getting honest with yourself will give you the opportunity to transform the way you communicate at work and in other areas of your life. Some questions you could consider are:
How good are you at really listening?  (Note: Real listening is not just waiting for other people to finish talking so you can say what you want to say)
Do you ask for what you want or do you complain instead that you can't get what you want?
Do you answer other people's questions directly or ramble off topic?
Do you use positive or negative language?
Do you over explain or give limited information to others?
Do you give ambiguous or clear instructions?
How Do You Communicate Non-Verbally?
Communication isn't just about what we say and some research shows that our non verbal communication is more powerful than our verbal communication. We also communicate via gestures, body language, facial expression, eye contact and the way we dress. Likewise, how we say what we say has a big impact on how the message is received.
Strengths and Weaknesses
When you do your self assessment, make sure you look for positive and negative communication styles; most of us are a good blend of both. Being overly critical or overly positive about your skills isn't helpful as it will not give you an accurate picture of where you are now and what you need to work on. If you are feeling stuck with this at all, it can be useful to ask for feedback from a manager or mentor you trust. Other people can often see strengths or weaknesses that we are unaware of. Working with someone you trust is important in this regard, you don't want someone to take it as an opportunity to pull you down or make you feel bad. This is an opportunity to develop yourself and make a difference to how you interact with the people you work with.
Choose Your Communication Tools Wisely
There are many ways to communicate; face to face, via telephone, email, Skype, conference calls and texts to name a few. It is worth being mindful of what you are communicating and choosing the most appropriate tool accordingly. For example, letting your boss know that you are resigning via email or text message, is probably not the best way to deliver that news whereas for other communications these tools might be much better. Email for example, is particularly useful for group communications and I often use it if I want to keep a record of a conversation.
Listen
Listening is the bedrock of good communication and however good a listener we think we might be, there is usually some room for improvement. Practice really listening to the people around you at work and noticing where you presume you know how someone will react or what they will say. Be mindful in how you react and practice responding to what other people are saying (rather than to what you think they are saying).
How do you enhance your communication skills in the workplace?