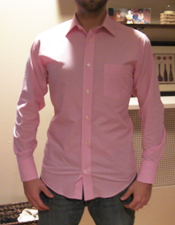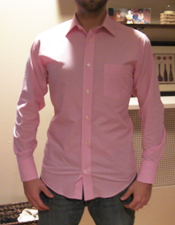 Work dress code is one of those imperfect sciences that will always be a bit wonky. I can't be the only one frustrated from trying to figure out the difference between business casual and semi-formal, right?
You already know that I hate wearing a suit to work. So what happened when Tailor4Less, a custom tailoring company stepped in and offered to customize a shirt for me?
First, let's back up a second. Years ago when I was working for VH1, I had a brief conversation with Peter Garrett, frontman of Midnight oil (You might recall the 80's at hit "Beds Are Burning"). I don't remember how the conversation came up, but I recall him telling me that the only difference between "famous" people and "regular" folks is that the stars get all of their clothing tailored. (And the frugal ones get it tailored from Asia).
That's why they look so fabulous, eh?!
If you visualize your own closet of clothes and identify your favorite outfit, I'm willing to bet that it includes clothing that 'just feels right.'
Getting clothes that fit well (and are affordable) has become harder and harder. I'm not sure if it's because companies are producing garments in third-world countries or because men have turned into animals (I'm only 5′ 9″, 165lbs.) – but nothing seems to fit me right anymore!
If you're ever visited a local tailor, you already know that slicing and dicing your clothes is not only an expensive affair, but it's quite annoying as well.
Enter Tailor4Less, a website that promises to customize clothing and deliver it to your door with a perfect fit guarantee.
I gave it a whirl. First, building the shirt was fun. You get to customize everything! Choose between six different collar types, pimp out your cuffs and you're off to the races. From where the buttons sit to the pattern behind the collar – this shirt will be your design in every sense of the word.
After you choose the look, it's time to take your measurements. You'll need to enter your basic stats (height, weight, body type) and then measure the length of your arms, the girth of your belly, and so on.
As promised, the shirt arrived within two weeks and was exactly as I ordered it. And that was kind of a problem. You see, I was too honest about my measurements. I should have given myself a little more wiggle room (as in a 1/2 inch in every direction!) for comfort. But the shirt does fit – and fits well. I'm not sure I can sit in it, but when I'm standing, I look quite fashionable.

Tailor4Less offers a moneyback guarantee, but since the shirt was gratis, I'll hold onto it and use it as an incentive to work on my "situation."