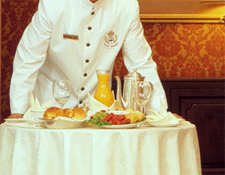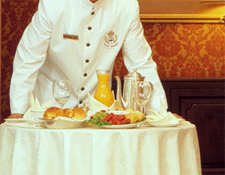 Unique occupations always intrigue this blog. Remember the French Polisher? Anyhoo, a conversation came up at work that has left us all stumped.
What do you call a person who brings food to your hotel room?
Help me out here…
They're not a waiter (how would you differentiate this on a resume?)
They're not a bellhop (unless they're bringing your bags WITH your food)
Food-bringer-upper?
Culinary Hospitality Consultant?
Is it as simple as the unglamorous title of Hotel Food Server?
Seriously. I'm baffled. What the heck are these folks called? Help!