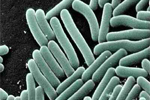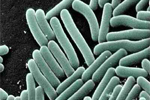 On show #55 of the Working Podcast a listener asked how they could buck a nasty trend and start taking their lunch hour AWAY from their desk. Download the show here or listen directly on our home page. While the Voice of Reason did a nice job of addressing the psychological ramifications, I'd like to touch on the potential medical fallout.
Why should you get away from your desk for lunch? Stew on these numbers…
# of germs per square inch in most cubicles:
• 25,127 on the phone
• 20,961 on the desktop
• 3,295 on the computer keyboard
• 1,676 on the mouse
Source: University of Arizona/The Clorox Company
But you're not the only scaredy cat who's too busy to break away for lunch:
• 78 percent of employees eat lunch at their desks at least two to three times a week.
• Nearly 50 percent eat lunch at their desks every day.
• 53 percent of all employees take a half-hour or less for lunch.
• 24 percent of workers always clean their desks before eating at them.
• 20 percent of workers never clean their desks before eating at them.
• 1-in-3 workers eat breakfast at his or her desk.
Source: American Dietetic Association; ConAgra Foods Foundation
The gang here at Jobacle.com urges you to take your lunch hour today – even if you normally don't! We all made a pact months ago to take our full lunch hour whenever possible, and lemme tell you, it's a beautiful thing! So get out there and run some errands, hit up the salad bar (speaking of germs!) or take a nap – you deserve it!