We're not talking so much about content as we are gimmick.  Granted, many of these could backfire and make you look like an ass.  The key is to either know the type of person who is receiving your resume or understand what would be considered unique within your selected field.  And of course, make sure an error-free resume is enclosed.
Clear Up That Paper
Search any career site and you'll see that most "experts" recommend that you use plain white paper for your resume.  And this sounds like solid advice.  But I will tell you that I have seen the reverse work.  Firsthand, I've witnessed a lesser employee land an interview (and eventually a gig) by sending in their resume on translucent paper.  Out of the dozens that came in, it was the one that stood out – literally.  It's a gamble, but if nothing else is panning out for you why not roll the dice.
39 1-Cent Stamps


The majority of online resumes fade away into the ethers. While paper can be ignored, at least it's something tangible.  With this approach, your goal is to grab their attention with the envelope. Some simple guerilla marketing (of yourself) could do the trick.  Forgo the standard 39-cent stamp for 13 3-cent stamps. And if you're feeling really bold – go for the 1-cent variety.   And if you're feeling mega-bold – create your own photo stamp.  These days you can include your ugly mug, a telling message (Hire Me, Please!) or some creative display of your work right on real postage.
Video Killed the Paper Resume
Ok, so this is still some time away from being mainstream, but if I were an employer, I'd love to see what I'm getting myself into before I call in some jabroni for an interview.  It's only a matter of time before the career Web site big boys catch on and make this an option for their users.  Beat the competition to the punch – create a short Web video as a supplement to your paper resume.  If the early bird really does get the worm, it might serve you well to be at the forefront of what could be the next wave of the Web video craze.  Either upload to Google, YouTube, MySpace – or better yet – to your own personal Web site.
It's All in the Details
This tip is more content-driven, but I remember reading it awhile back, and it makes perfect sense.  Under your previous employer's name include a brief description of what the company does.  You know what the heck ABC Software is all about, but your potential employer might not have a clue.  A single sentence can save them the Google search and get you in the door.  And don't be bashful.  The same way you want to represent yourself in the best light possible, make sure to play up your former organization's strong suits.
Post-It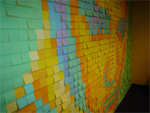 Attach a Post-It note to your resume saying something along the lines of "Great resume!  Call for an interview!"  It's important to keep in mind that the person reading your resume has 101 other things to do – not just read resumes.  Since it's likely to get passed from the initial recipient to the person who will decide to have you in for the interview – make it seem like it already has been given a thumbs up by another department.
This is obviously only the tip of the iceberg.  Leave your comments on resume gimmicks/tricks that you know about and listen in to a future episode of The Working Podcast on Jobacle.com for tons of useful WorkHacks.