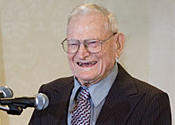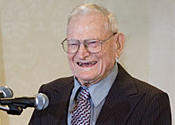 F. Waldo McBurney has won "America's Oldest Worker for 2006," an award handed out by Experience Works (an organization which strives to improve the lives of older people through employment, community service and training).
Now if I'm still working at 104 (heck, I don't even wanna be alive!), I don't deserve an award. In fact, I'd consider myself a failure. But the bee hive hauling, marathon running, bible toting senior has some good advice for all of us.
"Worry shortens life and makes life miserable…The easiest way to shorten ones life is to do nothing."
Sage advice from a man who used to have to cut ice from a pond to keep the family refrigerator cool.
Why not take a time out from clankin' at that keyboard and staring at the screen to be thankful for folks like F. Waldo. They let lazy bastards like you and me retire the right way – enjoying daytime TV, playing on open golf courses, traveling the world – or doing whatever else floats our boat.
"Hard work didn't hurt me, it helped."
You go F. Waldo! Now get back to work!