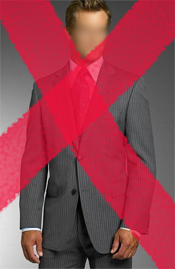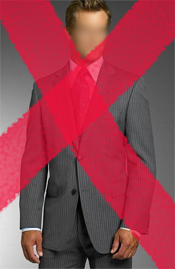 My job requires me to wear a suit every day, well, every day except for Friday. I wake up in the morning, eat a waffle for breakfast, and tie a noose around my neck. That's how it goes.
On Friday we are permitted to wear a collared shirt that features the company logo. And as much as I hate being a walking billboard for anything, by week's end, its often an attractive trade off. Wearing a suit for work makes no sense.
Plain and simple, wearing a business suit sucks. You women have no idea how lucky you are in that regard. (Don't bother complaining that your office requires pantyhose; at least you can still breathe!)
Back in the days when my jobs required a business casual dress code or "just tuck it in," I was convinced that the well-dressed dudes in the suits got all the glory. They were the ones that the shopkeeper hooked up with a free cup of coffee. They were the ones who got hit on riding the train. They were the ones bringing home bank.
But I was wrong.
It's on Fridays, the one work day that I do NOT wear a suit, that these things happen. Go figure!
I have found that people generally treat me better when I am not wearing a suit. Perhaps they are unfairly judging me, the way I made assumptions about suit-wearing corporate types before I became one. (Actually I am not a "suit," I just look like one).
This is the point where I should tell you that I am a product of NYC public schools, so I was never subjected to school uniforms. Perhaps that's why it strikes me as odd. Maybe there's some study that shows that suppressing individuality and neutralizing everyone's appearance results in fewer distractions and arguments. But as I recall, those kids in uniforms were just as bad as us – maybe worse.
Forcing men into monkey suits has it's place, (learn about necktie history) but for me, sitting at a desk all day with minimal human interaction with "outsiders," is a complete waste. Well, almost. Having to wear a suit does have its advantages. It certainly doesn't hurt your confidence to be dressed to impressed, not only at work, but everywhere you stop in between. It also can be fun to mix and match shirts and ties, experiment with cuff-links, and break out the suspenders. (This fun wears off rather quickly for most.)
There are also the cons of wearing a suit to work. First, they are expensive. If you ever hear of a deal of two suits for $199 – run the other way. Second, dress shirts wrinkle easily. I don't care if they are wrinkle resistant, wrinkle-free, or wrinkle-proof – all button-down shirts wrinkle. And that brings me to the third reason why I hate wearing a suit to work: the dry cleaners. It's a weekly trip and an expense, which surprisingly, adds up. Throw in faded black socks, and I can't even talk about wearing a suit without getting riled up.
Weddings, fine, I guess
Funerals, alright.
But every day at work when you're sitting in front of a computer? C'mon!
I like my job but I hate wearing a suit – it sucks.
What are your thoughts on wearing a suit to work? How do you perceive men in suits?