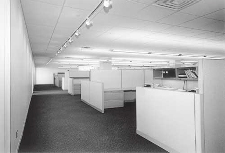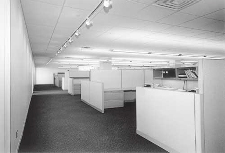 The other day, some bloke at work commented on the fact that my cubicle is kinda sparse.  Aside from two tiny scenic pictures, the obligatory wallet shot of my wife and stacks of paper – there's absolutely nothing to check out.  Unlike this dude, who has been here like four minutes, and brought in a crate worth of crap.
I guess he's trying to make his mark in the mud.
"I'm here to stay!"
Good for you, buddy.
And that got me thinking about the reasons why my area is a barren wasteland.  It's not that I'm lazy or only been here three weeks.  Here's my logic:
– Keeps separation between work/home.  As you all know, it's a tough juggling act – and like all relationships – there's no going backward.  Once you let someone "in" – they are there to stay.
– Less gawking.  Everyone always has to glare at your monitor – why give them another reason to look over?
– Easy departure.  Knock on wood, I've never been fired from a job.  But whether it's my choice or there's – I'd like to make my exit quiet and graceful.  I don't want to ask for help with the boxes!
– Fewer distractions.  An empty desk is a clear mind, no?
I'm not saying to be a misanthropic fool.  But no one needs to know who I pray to, who I root for and if me and my sister look alike.
Do I appear not committed, maybe?  But work with me for a week and you'll see that's not true. However, as I type this I'm starting to wonder why I'm not taking my own advice.  After all, I did encourage these healthy items for your desk a few months ago.
I'd love to hear how you guys and gals keep your workspace…