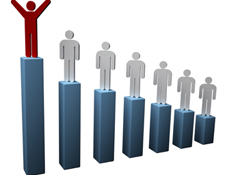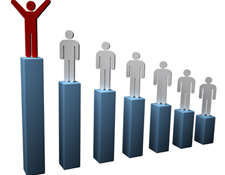 Maybe I don't spend enough time reading biz books because I'd never heard of the "forced ranking" system that some companies use. Hey, I can still write for a career blog and not read those, ubiquitous biz success books. But an article on forced rankings did catch my attention. Basically, it's a way for your employer to designate your performance level in the company. Good for you if you are a 1, not so cool if you're a 3, because 3's can designate dead wood, "not performing up to whatever" and you could be history before you know it.
Different Ranking System
I really don't like that forced ranking thing, so I'm making up my own. Think of it as a combination of the Miss America pageant, what your boss really thinks of you and how your co-workers truly perform. Instead of your boss doing the ranking, you'd have a panel of judges comprised of only one manager, some co-workers and maybe even some clients.
Here are some proposed categories for ranking:
· Best Suck-Up
· Most Cheery in the A.M.
· Most Fun in Meetings
· Best Accessories
· Most Innovative
· Best Leadership (okay, I had to include some real biz ones…)
· Best Excuses for Missing Deadlines
· Most Convincing "Calling in Sick" Imitation
· Way to Flake Out on a Project Award
· Most Entertaining Dysfunctional Family Stories
· Best Bull**** Salesperson
· Biggest Bizspeak Perpetrator
· Best Smelling (hey, the absence of B.O. needs to be celebrated!)
You can make you own categories to fit with specifics about your workplace.
Nominations
Even the nominating phase will be fun. Announce the categories in a company-wide email or even on the Facebook page. There should only be 3-4 candidates for each category. Everyone will vote by secret ballot (let IT figure that out), then the nominees will be revealed. Give it a couple days for people to decide their faves. Book the biggest conference room for the awards/rankings. Oh, and you need to do those remote feeds they do on the Oscars so the nominees not in the office can humbly give their acceptance speeches.
See, isn't that better than have a crummy number ranking?
Written by regular Jobacle contributor Nancy LaFever. Find more of her critical thinking on her blog, where she overanalyzes the bizarre grocery shopping lists of the single demographic.