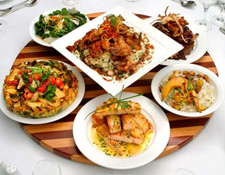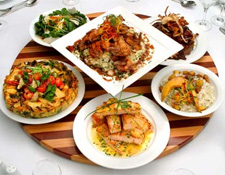 The office potluck is an occasion to change up monotonous lunchtime routines and showcase your cooking skills to coworkers during the holiday season. Offices everywhere regularly host potlucks as excuses to take extended lunch breaks. While potlucks can be prime opportunities to relax and chat with coworkers (or call in sick!), the mood can quickly be broken by those who aren't aware of the unspoken etiquette rules. The following are four examples of what not to do at an office potluck to ensure you're never the one to break the rules.
Bring Opened Food Products
If you can't afford to purchase a new bag of chips for an office potluck, don't partake in the festivities. Employees who bring already-opened food products are voluntarily casting themselves to the 'oddball' table in the office break room. Whether you've signed up to bring potato chips or ketchup, always bring new and sealed products to avoid awkward chuckles in the potluck line.
Double Dip
Please, never double dip at an office potluck or at any special occasion for that matter. Dipping a veggie or chip, taking a bite and then dipping again is gross and completely disrespectful to anyone using the dip after you. Better yet, don't dip your food in the community bowl at all. Use a spoon to serve up a hefty dip portion onto your personal plate and then double dip all you want.
Bring a Significant Other
Unless it's standard at your company to bring a significant other to a lunchtime potluck, don't do it. Office potlucks are occasions to socialize with coworkers and are typically not the time to bring in a significant other. Having your partner at the potluck will only create an awkward situation with other coworkers and will cause you to feel like an outsider. If your significant other is insisting on going to the potluck, create an excuse that you were notified by management that potlucks are only for employees.
Don't Bring Anything
A potluck means that every employee brings a dish to share with other employees. As such, don't assume you can sneak into the potluck and eat other's dishes without contributing anything. Those who took time to prepare dishes and bring them will be closely watching whether each person eating also contributed a food item. Even if you only bring a bag of chips, never show up to a potluck empty-handed.
Potlucks are occasions to socialize with coworkers and showcase your cooking skills. However, these gatherings can quickly be ruined by employees who aren't following the unspoken potluck etiquette rules. From leaving a significant other at home to never showing up empty-handed, be sure to always follow the potluck etiquette rules in your workplace to avoid your invitation at the next event being lost in the mail.
Have you experienced unusual coworker behaviors at potlucks or do you have additional examples of what not to do during these gatherings?
P.S. – You should also avoid foods that stink.