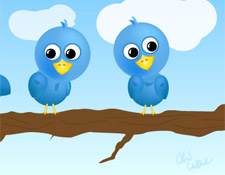 I have to preface this post by saying I'm not one of those old(er) folks who shun new technology; I make my living writing, utilizing it every day. But I've been slow to embrace Twitter ("Twitter for Job Search? 10 Users to Follow"). I just don't immediately think of it as a communication tool. Now I might embrace their stock if they go public…
But I have to say, this article on WSJ.com caught my attention, "Here Tweeting is a Class Requirement." I love this concept,
"Businesses including Sprint Nextel Corp., Levi Strauss & Co. and Mattel Inc. are sponsoring college classes and graduate-level research to get help with their online marketing from the young and hyperconnected. Sprint, for example, supplies a class at Boston's Emerson College with smartphones and unlimited service in exchange for students working gratis on the company's local Internet push."
So Sprint gets free marketing services and the students get shiny, pretty to play with. *Jealous.* But seriously, what a great opp. to spin your college classwork into a potential job. It made me think how I might have used Twitter when I was an undergraduate in art history, tweeting "Yo, compare and contrast Byzantine Madonnas AGAIN?" It doesn't quite have the same practical applications as the Emerson students' program.
It's great when cool business tools and bleeding edge marketing concepts invade staid, cloistered liberal arts enclaves. I know that universities have been incorporating technology, but it seems we don't normally hear much about it outside of marketing major tracts or MBA programs.
I bet now there's even an art history smartphone app. – "17th Century Dutch Masters." Not that it's a big seller…
This post is by regular Jobacle contributor Nancy LaFever.