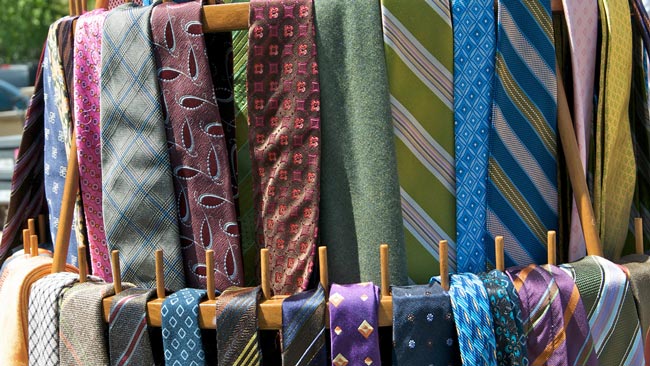 A few years back, when we were in a full wedding planning craze, I had my first experience renting a tux.  I couldn't believe the expense.  And the thing that blew is that it wasn't just me having to dip into my wallet, it was my groomsmen too.  But as I suited up on that amazing day (and it was worth every penny!) I couldn't help but send a silent salute to the bastard who figured out how to turn a $500 outfit into thousands. I guess the same could be said about all of those bowling alley shoe rentals.
Enter Net Tie – a Netflix business model for you corporate suits out there.
I first learned about these guys when there Google ad appeared alongside my Web site. Here's what they do, it's quite simple.  You pick a subscription plan, get ties in the mail, wear the tie (for as long as you like), send it back, and get more ties.  The more you pay, the more ties you are allowed to have out at once.  And a la Netflix, you'll receive a postage paid envelope to mail the noose back.
All members get a virtual tie rank which allows you to keep a wish list.  When a tie on your list becomes available, it's sent to your doorstep via First Class Mail.  FYI: You must have a valid credit card and live in the U.S.
Different plans range from $45 – $80.  Now I personally haven't tried out the service (we're currently enjoying "casual summer"), however I might give it a shot in September.  I'll let you know how it goes (there's a 14-day free trial).  Also, I'm going to invite the founder of the biz to be a guest on a future episode of the Working Podcast.  So, please subscribe to the blog AND the podcast and stay tuned!
You might recall that I've pontificated on neckties before with why they annoy me – plus some history.  Your comments are always welcome below!