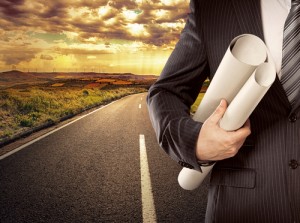 Computer science and creativity aren't often considered related. After all computers are usually associated with left-brained functions like mathematics, while creativity is considered to be strictly right-brained. The reality is that there are several careers that combine creativity with computers.
Web Designer
Web designers do more than just make websites look pretty; they also need the technical expertise to make the web sites functional. For example, if you look at Amazon's site you'll notice that it is laid out in a visually appealing manner with a lot of graphics, animation, and easy-to-navigate headers. The site also keeps track of your product purchases, searches, and wish lists so that it can customize your experience when you log in.
A web designer designed all of those visual elements but also worked on the thousands of lines of code needed to make the website run seamlessly.  You can also find a software engineering job.
Where They Work?
Web designers can work for specific companies, like Amazon or Google, or as freelancers. Almost any individual or company that has a web presence has used a web designer at one point or another.
Education
There was a time where web design was pretty basic. Websites were little more than simple pages with text and basic graphics. Because the internet was so new, there really weren't educational programs that taught web design, so early web designers were largely self-taught. However, as the internet became more popular, websites became more complex with the addition of animation, photos, audio, and video. As websites became more complex, there was a greater need for more advanced education and training. So whether you choose to work for an employer or go freelance, web designers looking to remain competitive should get a web design degree from a reputable program.
Game Designer
Game designers create everything that contributes to the user's experience within the game, from the user interface to all of the characters, maps, game rules and maps. Much of the work is done on a computer, and game designers even do a small amount of coding in the process of designing and testing the functionality of the game.
Where They Work?
Game designers generally work for game companies. However, it is possible for a game designer to work independently and design and sell his own games.
Education
There are several educational paths that can lead someone to be a game designer. A strong art background gives designers the skills they need to sketch parts of the game before they are rendered on the computer. It can also teach them about lighting, composition, perspective, and other tools that artists use to create stunning visual images. Computer-assisted design (or CAD) can give designers the skills they need to render 3D drawings on the computer. Computer programming classes can teach them about the coding that goes into the functionality of the game.
Due to the growing popularity of computer games, there are also several colleges that now offer undergraduate and graduate programs in video game design.
Audio Engineer
The computer and technology field isn't just for the visually gifted; those with an aptitude for music can also find their places as audio engineers. Audio engineers work with all of the technical aspects of music and sound from recording and mixing, to sound reproduction. They differ from producers in that producers decide what effect they wish to achieve, and the engineer actually makes it happen, however, it is also possible for someone to be both a producer and an audio engineer.
Where They Work
There are several different types of audio engineers and they can work in a variety of places.
For example, a game and audio design engineer would work primarily in the game industry as part of the design team. On the other hand, an audio post engineer works primarily in the film and television industry, mixing and editing sound after filming has completed. There are also live sound engineers who work primarily at a live event. Audio engineers can work for large companies or work freelance.
Education
Some audio engineers get formal training in specialty programs, such as film schools and music schools. Some of these schools even have studio internship programs. Others learn hands-on, from spending time in the studios, and insist that you do not need a degree to become an audio engineer. However, going to school might get you exposure to equipment and techniques quicker than if you just walked off the street as an intern.
If you are getting burned, and strongly suspect that you are in the wrong career, it could be a sign that it's time to express your more creative side.