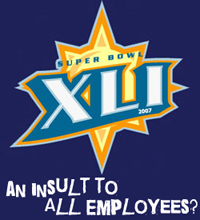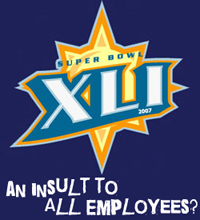 We pick a box for the office pool. We eat greasy chicken wings. We watch the advertising orgy. And somewhere in the middle of the game (yes, there IS a game!) everyone sits back and small-talks about how much the silly ads cost.
There are between 50 and 60 ads sold at approximately 2.25 million each (after discounts). A conservative estimate puts the amount of money spent on advertising by companies at 125,000,000. That's not even including the money and manpower it takes to make the commercials.
Let's look at some random numbers of how this 125 million dollars could be spent:
– Would roughly equal 42 cents per American.
– $3 for every American without health insurance.
– Diamond Emerald Nuts, one of this year's smallest advertisers, would be able to give their 670 employees a $4,000 bonus.
– Taco Bell could actually pay farm workers a decent enough wage to clean green onions and spinach.
– Could buy 6.25 million red Swingline staplers. If put side by side, enough to go from my house in NY to Charlotte, NC!
– Ford Motor Company could buy all 300,000 employees shiny new iPhones. (oh wait, they're busy laying everyone off)
– Nationwide Insurance, another of this year's advertisers could have lit the money on fire and thrown it over a bridge – rather then give K-Fed one red cent.
– Both the ASPCA and American Lung Association combined don't even raise that much money a year.
– Super Bowl newcomer, Salesgenie.com could have actually bought a real Web site or a real production house to produce an ad. Look at this turd!
Maybe some of these employers are the most generous out there. Maybe they're a treat to work for (doubtful.) Whatever the case, there's gotta be a better way to piss away money, no?
How would YOU like to see advertisers spend their Super Bowl ad budgets? Or do you buy into the hype that it's "good for the economy?" Do your own math and leave a comment below to join the debate!
And maybe down the road employers might want to cancel the whole game to save $810 million…