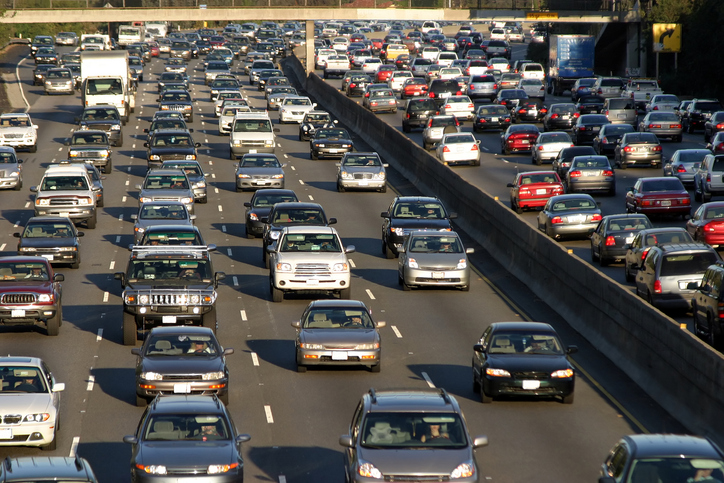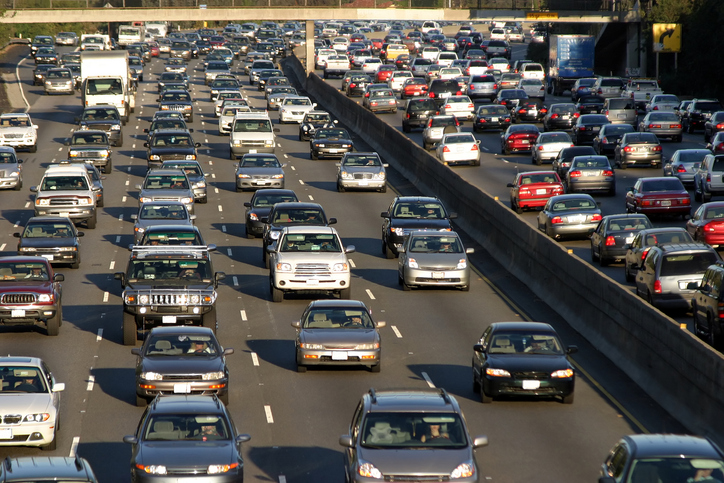 Stuck in traffic? Sorry. We'll preface this blog entry with a reminder that, when driving, your hands should be on the wheel and your eyes on the road.  Distractions can be deadly.
But just in case you're a rebel-rousing soul like the gang here at Jobacle.com, and find yourself incessantly fiddling with the radio dial and heat controls, we've come up with a few ways to maximize your driving commute.  We'll tackle other forms of commuting in the future – but for now – here's how to be productive while on four wheels.
– Meditate. Deep circular breathing.  Inhale through your nose for 3 seconds. Hold for 3 seconds.  Exhale evenly for 3 seconds.
– Observe.
"I think we can enjoy the red light; we can also enjoy the stop sign. Every time we see it we profit: instead of being angry at the red light, of being burned by impatience, we just practice breathing in, breathing out, smiling."  -Thich Nhat Hanh
– Educate yourself via podcasts, audio books, or even learn a language.  Even as white noise, all of these things can make you smarter while you are stuck in traffic.
– Keep an audio blog. Whether it's public or private it will help you get to know yourself a whole lot better.  Digital audio is cheap, boundless, and tiny.  When you feel inspired, leave yourself an audio note or voicemail that will be automatically routed to your e-mail account for a later listen. Leverage a transcription service to turn your blabbing into actual text.
– Self massage.  No, not there.  But there are plenty of pressure points you can use to relax yourself.  Here's a good starting point.  It's always better when someone does it for you – but you're still releasing tension and increasing a blood flow.  Please note that all techniques on the above link will NOT work when you are driving.
– Recount your day – but don't "re-live" the negative.  Think about how you acted and examine what you would like to see yourself do differently tomorrow.  Learn from your mistakes and use your time stuck in traffic during a commute to become the person you want to be.
– Take a different route.  Unless you work on a tiny island, there are probably 101 ways to get to work.  Try a new one.  Notice interesting houses. Rusty sheds.  Odd yard work.  Anything.
– Avoid traffic.  I'm in NY and even I can find some relief from traffic jams.  Alternative routes put YOU in control.  I'm not saying to study an Atlas or keep Waze buzzing in your ear incessantly – but learning your area can help you avoid trouble spots.
– Exercise.  YES, in your car! For those of you old enough, you'll remember those comic book ads where the scrawny kid would get sand kicked in his face by the big bad beach bully.  Those ads were for Charles Atlas – a man who can still teach you how to get in shape without ANY weights.  Try the free lesson on his site and the wise to "DYNAMIC-TENSION."  You can even do it while stuck in traffic.
– Play mind games.  As a kid, my sis and I would play Traffic Bingo (now I play Office Bingo).  And when that got old (after about two blocks) we'd see who could spot a Century 21 real estate sign first.  It's silly – but why not give your mind a much needed break by playing some solitary games.  A few possibilities are locating license plates from random states, search for three cars of the same color in a row or play the infamous driver/celebrity look-alike game.
– A celluva time.  We won't even waste the keystrokes urging you not to talk on the phone when you drive cause we know you'll do it anyway.  So… use it for good – not gossip or idle chatter.  Make doctor's appointments or just call people and say, "Thank you. I love you." Being stuck in traffic never felt so warm and fuzzy.
– Follow the slowpoke.  This is a calming game we've referenced on a previous podcast: find the slowest car and follow it.  The goal is to try to NOT change lanes for as long as possible.  You'll get where you need to go – and the slower you go – the more enjoyable the ride.
DO NOT: read, write, apply make-up, crochet, trim your nails, shave or pick any bodily cavity.
Now it's your turn!  Leave your comments below on how to make a driving commute more productive when you are stuck in traffic.