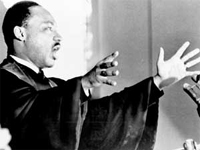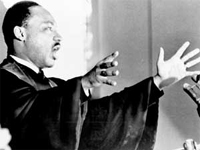 On the third Monday of every January, schools, federal offices, and banks across America close as we celebrate America's most "recent" holiday: Martin Luther King Jr. Day.
But maybe you're like me and forced to work while many of your friends get the day off! If you are, give your employer the finger by giving this a Digg!
It was 20 years ago that President Ronald Reagan (unwillingly) signed a bill into law making MLK Day a national holiday – one of only four days to honor an individual person.
Although the day is a federal holiday and a state holiday in all states, it is ignored by many companies. In 2006, 69% of employers did NOT get the day off.
More companies are closed on Veterans Day or Columbus Day – which are also federal holidays. Why?
I don't mean that as a rhetorical question. I REALLY want an answer. Why?

Is it because stores haven't found a way to make money?
Is it because the holiday is still "new?"
Is it because we recently had off for the Winter holidays?
"A living wage should be the right of all working Americans."
Amen, Dr. King!
Now someone please shed some light and tell me why I'm stuck in my cube!?
Also, check out the latest episode of the Working Podcast for more on MLK day and your chance to win a $50 gift card from Ace Hardware! If you like it, subscribe here.