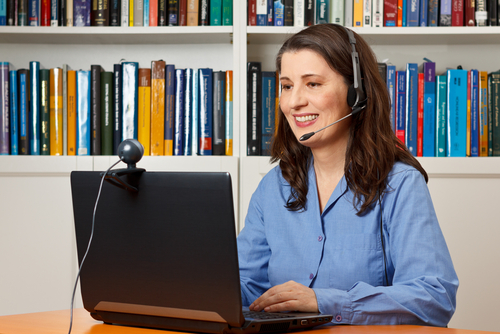 These Skype interview tips 2016 will separate you from the pack!
You've probably had a phone interview, and if you're gainfully employed, chances are good that you've had an in-person interview as well. But a new wave of job interviewing has popped up – the Skype interview.
A Skype interview is an awkward cross between a phone interview and an in-person interview. On the bright side, you don't have to physically go somewhere as long as your house or apartment has wifi. The bad news is that you do actually need to shower and make yourself presentable. The following Skype interview tips will set you up for success in this new type of job interview situation.
Make Yourself Presentable
This Skype interview tip is a no-brainer. If you're on video, you need to look decent. And that's the bare minimum – if you want to impress the person you're interviewing with, you'd better make sure that your hair is under control, makeup is tastefully done (if applicable), and that you're wearing a blazer or suit jacket with a blouse or button up shirt.
And though you may be tempted to just dress professionally from the waist up, experts agree that dressing up more completely, as if you were going to an in-person job interview, may in fact be the biggest key to success with Skype interviews. It's more psychological than anything, but consider a situation where you have to stand up to go grab something you need for the interviewer – busted.
Take a look at the company's social media to get clues as to how you should be dressing according to their standards, but always aim to dress more professionally than you think is necessary – they'll appreciate the effort.
First impressions over video are important and hard to change after the fact. Don't ruin yours by appearing sloppy.
Mind Your Background
In your bedroom or on the couch is probably not the ideal setting for your Skype interview. Instead, find a space within your house or apartment with a solid color wall that you can set up a table and chair. The table and chair are important both for your posture and computer positioning. You don't want to be balancing your computer on your lap.
Make sure there's nothing distracting in the background…or gross. Nobody needs to know that you're really a slob – save that tidbit until after you've secured the job.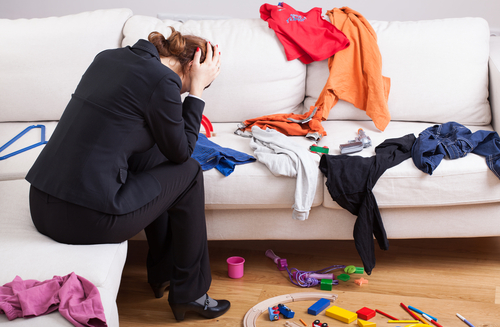 Put Your Pet in Another Room
Have a dog or cat? It's probably impossible to guarantee that they'll be quiet (especially if a deliveryman comes halfway through your Skype call), but you can at least ensure they don't make it in the frame by putting them in another room. This is one of the Skype interview tips that isn't obvious, but is definitely important for preparation!
And if you have a child? It's definitely a good idea to get a sitter or make sure to schedule your Skype interview for while they're at daycare. Your interviewer won't want to hear excuses during the interview, no matter how cute your kid is.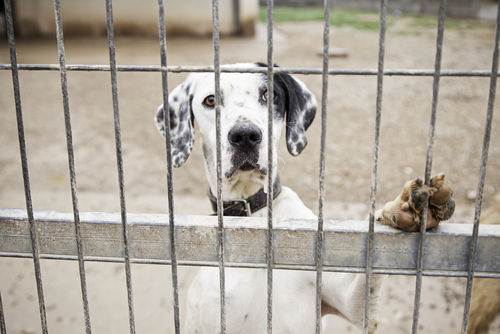 Get Rid of Distractions
Do you have the TV on in the background? Are there programs open on your computer that are begging for your attention? It's tempting to keep things going so you're ready for whatever you have planned later, but it will not do you any favors when you should be focusing on your interview. Turn off and exit out of anything that has the chance to distract you during your Skype interview – it can definitely wait until once you're finished.
Therefore, one of the best Skype interview tips is to be an active listener on top of avoiding distractions!
Be Prepared
Just like in a regular job interview, you should complete similar actions to prepare for a Skype interview, but also should include some technical preparation. Here are some Skype interview tips to help you prepare yourself ahead of time:
Take notes, including anything specific you want to bring up about the company (what you know about them, something recent in the news, etc.) in bullet form or something that's very easy to read

Check your Skype video and audio settings before the call so that you're not distracted with technical problems during the call

Take a look at your Skype name and any profile information you've added – is it all professional? If not, make any necessary changes before connecting with your Skype interviewer.
Seeing yourself on video can be unnerving for the average person. So, if you have time and a willing third-party, do a practice run through of the interview through Skype. It will help get rid of some of the jitters, see if there are any technical problems, and can even lead to some valuable feedback for the real thing.
Engage with your Interviewer
Instead of trying to look directly at your interviewer, look into your camera to "make eye contact."
Periodically during the call, ask questions and check to make sure they're still paying attention. After all, they're just as prone to computer distractions as you are – especially because they're not the one looking for a job!
Finally, make sure that your posture is good but not stiff. Don't gesticulate too wildly and remember that you're on camera. And smile! It's an easy way to connect with the person interviewing you.
Are there any Skype interview tips that have helped you to find success? We'd love to hear your thoughts in the comments!