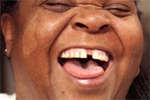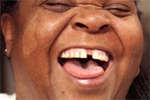 There is something special about people who take pride in their work. You can hear it in their voices, see it on their faces and validate it with their results.
Smiling not only makes you look inviting, accepting and nice – but it comes across in your voice too. And while I know firsthand that it is impossible to wear a smile every minute of everyday – it's something you need to try to do more often – even if it's fake!
I'm not suggesting you go as far as joining a Laughing Club, however, next time you catch yourself walking down the hallway at work and you're all by yourself – crack a smile. I swear it'll make you feel better. I also swear that it'll make you look nuts – so make sure you're alone! Smiling is contagious, universal and creates an atmosphere. Don't hold back – let a rip!
Smiling will:
– Release hormones to regulate your mood
– Increase the number of antibodies that fight infection
– lower your blood pressure
– boost respiratory function;
– exercise dozens of facial muscles, keeping you looking young
It also benefits your career:
– 72% of people think that those who smile frequently are confident and successful
– 86% of people are more likely to talk to strangers if they are smiling
– Bosses are 12% more likely to promote people who smile a lot
Now for an exercise that will definitely make you smile. Can you spot the real smiles from the fake ones? Take the quiz and let us know if your co-workers have been pretending to laugh at your bad jokes.
This entry was inspired by the folks at Verizon Wireless for exuding a positive and helpful attitude while helping me through a purchase (goodbye, Cingular!). Reps Daniel and Amber were upbeat, optimistic and efficient. And while I couldn't physically see them, I know they were smiling. A good attitude is the best branding a company can have. Forget the "network" or how many people are "IN" – I'll now recall Verizon as those friendly blokes who are grinning ear-to-ear.