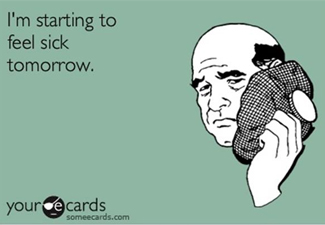 Calling in sick is something most of us have to do from time to time but, for many, there are worries associated with calling in sick even when there is a genuine need to do so. The current economic climate has made job security a real concern for many, with a fear that taking time off due to illness may be seen in an unfavorable light by employers. This can result in many struggling into work ill, rather than resting and recovering at home. Knowing how to take a professional approach to calling in sick can take some of the worry out of informing your employer. It can also help you to take responsibility for doing what is in yours and your co-workers best interest i.e. getting better before returning to work.
One of the biggest problems in this situation is deciding if your illness warrants you taking time off work. It may seem like the right idea to continue working, but there are several points you need to consider before choosing to take yourself into work if you are ill. Being a hero and dragging yourself into work when sick can be inappropriate and might put others at risk if what you have is contagious. It may seem like a selfless act to carry on while feeling sick but it can in fact be quite selfish if you are fulfilling your own needs to appear like a super dedicated employee while putting others at risk of catching something from you. If you do go in to work sick, will you be able to concentrate? You may be there in person, but your ability to do your job at a satisfactory level may be impaired. If you are taking medication, this may affect your abilities as well. For example, taking a drug which, as a side effect, can make you drowsy will not only affect your abilities but can also be potentially dangerous, possibly risking the safety of yourself and others, putting your job in jeopardy and could even lead to legal implications. When you are ill, your body is weakened and requires rest in order to recover. Continuing to work may prolong or worsen the illness with greater consequences than a few days off sick.
If you have made the decision to phone in sick, the following points will make the difference between having the peace of mind of doing it properly or spending the time, when you should be resting, worrying about the fall-out from you calling in sick.
For example, don't leave a message with a work colleague you are friends with if policy states you must inform a manager.
Phone as soon as possible
This demonstrates a desire for your absence to have as minimal an impact as possible, allowing time to for your employer and colleagues to provide cover and redistribute your workload.
Keep to the facts
You will only sound like you are lying if you venture into an elaborate and long-winded story of how you happened to fall ill. Communicate what you need to clearly and concisely.
Don't fake cough
It's such an obvious ploy when faking illness, it will make your illness sound like an act even when its genuine!
Apologize for the inconvenience
Taking responsibility for the inconvenience caused by your absence will demonstrate moral character and a responsible attitude to your work.
Ask if there is anything you can do while off sick
You may be unable to go into work but you might be able to fire off a few emails or read through a few proposals. This again shows your commitment to your job without jeopardizing your health or others.
Should you text in sick?
Thank those that covered for you
Showing your thanks for the extra work your colleagues may have done for you will be appreciated and minimize any resentment they might have. Chances are you'll be covering for someone else at some point, so this behavior will bode well for good working relations.
Related Links:
Bossophobia: How to Handle Fear of Your Boss
Workplace Etiquette for Common Situations
Thinking Like Your Boss to Get a Promotion
Please subscribe for career advice designed to make work better.