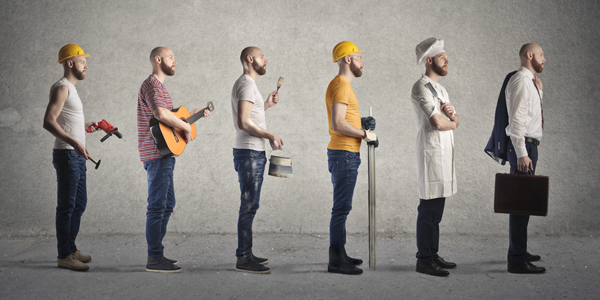 It's normal for most people to go through a career shift as much as seven times and sometimes even more. If you're not happy with your current career, it's time for a change. The problem is you might want a change, but you're not sure how to switch careers. The key is to be patient and take your time. With a little work, you'll be in a new career you love.
Decide What You're Passionate About
We all dream of a job we love getting up for every day and don't mind working long hours when necessary. You don't have to just dream about it. Start your career change by figuring out what you're passionate about.
If you enter a career you hate just because it pays well, you'll be miserable. Think about things that make you happy. It could be a hobby, a major you never got the chance to use in real life or anything else.
Look At Your Skillset
Obviously, passion is important, but it's only going to take you so far. Sit down and list all your skills. You don't have to stop at what you've done at a job either. Are you a great cook at home? Do your friends think you're the most organized person they've ever met? Those are skills too.
You have to know what you're capable of before you change careers. Check your list and see if there are any skills you wish were there. Take a class or go to a training course and master the skill. The more skills you have in the area you want to go in, the easier it'll be to shift careers.
Determine Your Own Requirements 
What do you want from a career? Jobs have requirements. Why shouldn't you have your own? Think about the following:
How much money do you want to earn?
What hours and how many are you willing to work?
What do you dislike about your current job?
Are you willing to relocate?
What benefits are mandatory?
What type of environment do you want to work in?
These aren't the only questions to ask yourself, but it's a good start. You should be able to have your own job description written. All you're waiting for is the right title and company to match it. 
Check Job Requirements 
Now that you've figured out what type of career you want, it's time to research job requirements. Any career shift plan means making some changes. It could be as simple as moving to a new company in a higher level position. For others, it might mean going back to school.
Make sure you have all the required skills and education beforehand. If it's for a career you really want, the work will be well worth it. 
Research Career Progression 
A career might sound wonderful at first, but the appeal could fade quickly if you're stuck in the same place forever. Ensure there's room for progression in any career you choose, especially if you plan to stay in that career for more than a few years. 
Think About Work / Life Balance 
Many people want to learn how to switch careers because they want a better work / life balance. If family and friends are important to you, think carefully about how much time is involved in preparing for your new career. Think about what type of hours are required for the job itself. The last thing you want is a career that takes away the things that are most important to you. 
Research Companies 
You've narrowed done your career choice to certain titles by this point. Now it's time to research companies. See where the jobs are, what salaries are offered and what type of environment each company offers. Think of it like choosing a college. You want to be prepared so you get into the company of your choice. 
Create A Solid Plan 
The final step to planning the perfect career shift is creating a solid plan. Possibly considering online MBA programs, too. Your plan should include:
The job title and company or companies you're shifting to
A timeline to change from one career to another
What skills or education you need
How you'll gain the required skills and education
Any smaller jobs you might need to take to gain experience
Stick to your plan. This is especially important if it'll take several years to achieve your career shift.
Don't give up, no matter what. Switching careers is a major decision and it might seem overwhelming sometimes. With proper planning, you'll get the career you've always wanted.