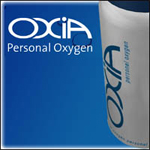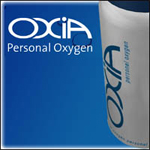 The atmosphere is approximately 21% oxygen. Deprivation kills. But what if you're getting "just" enough in the workosphere? Enough to live – but an amount low enough that you constantly find yourself tired…
Enter a jolt of Oxygen in your pocket.
Oxia boasts itself as the world's smallest, lightest and most fashionable portable oxygen dispenser. It's a "natural boost of energy anytime/anywhere." I first read about it on this fitness blog.
And heck, if it's good enough to get Lindsay through her rehab stints and Britney through her multiple pregnancies – it's surely good enough for us.
Is portable Oxygen a true "stress tonic?"
Years back – when Oxygen bars were poised to be the next big thing – here's what the FDA had to say.
While the results were pretty much inconclusive, we ain't running out to pay for air. I'm hardly cheap, but I do have to draw the line somewhere. At $20 for approx. 30 puffs – it better do something!
Now without boring you with an eighth grade science lesson – you can easily get an extra boost of oxygen from a desk plant. Listen to the latest episode of the Working Podcast on our home page or download it directly here. Marion Owen, author of Chicken Soup for the Gardener's Soul teaches you the basics about which plants can actually thrive in your dimly-lit cube.
Oh, and if you wanna join the Hollywood elite, you can get some canned air here.