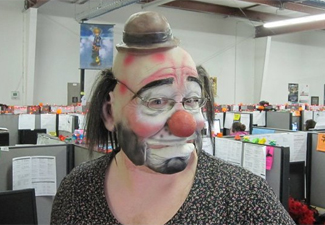 Halloween has been a popular celebration for children for many years, particularly in the United States, and in recent years has crossed over to adults and even become a good excuse for a work Halloween party! Done right, celebrating this occasion at work can be a great staff morale booster and team building experience, you'll get to see a different side to your colleagues, get to interact with staff members you would otherwise have little chance to meet on a regular working day, and an opportunity to show a side of yourself, away from your work persona. It's also a chance to demonstrate talents such as organizing, planning and creative skills, as well maybe hidden skills such as story and joking telling!
Do encourage creativity 
Part of the joy of Halloween is showing off your creative costume ideas.
Do arrange games 
Choose games appropriate for your working environment. These could be judging the most creative or original costume idea, awards for best decorated department, and pumpkin carving. 
Do make it clear the boundaries of behavior 
Getting drunk in the middle of the day and then presenting yourself as the face of the company to clients will not go down well with most bosses.
Do check out company policies before planning anything
Do this so the party doesn't fall foul of company rules. Consider health and safety implications, with labelling of foods for allergy sufferers, fire safe decorations and follow carefully any advice given by your health and safety rep.
Do start planning early
Some of the best parties are the result of a spontaneous idea, but when arranging a party either at work, or for work staff, its better to plan early rather than leaving it to the last minute. This way there's more chance of the party being a success and meeting any necessary company criteria.
Don't arrange for the party at an awkward time
Most people have commitments outside work that they'd regard as a higher priority than attending the office party so consider arranging the party during lunch hour or straight after work, either in the office or somewhere close by. This way you're likely to have a better, more willing gathering.
Don't make it compulsory to attend 
Not everyone enjoys parties or dressing up, and staff should be allowed to attend work without being forced into social situations they don't enjoy.
Bio: Jen Smith is a Life Coach & Writer. She has tried many career paths herself and now helps people achieve their goals and dreams.