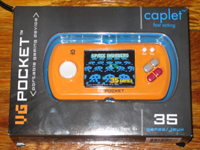 Morgan Stanley CEO John Mack has nothing on me!  He might have received a $40 million dollar bonus (in stock and options) but he didn't have the thrill of sifting through his boss's reject gifts.  The adventure reminded me of the old Wheel of Fortune – and I'm dating myself here – but back in the day you would go "shopping" with the amount of money you won.  It was awkward, weird and didn't really make for good TV so they ditched the idea.  I digress.  Back to MY bonus.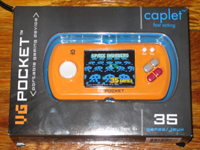 A VG Pocket gaming device (you can play Space Invaders and Burger Time), an in-car massage pillow and a Jeep brand knapsack.  Eat your hearts out you foolish Goldman Sachs stooges.  Those suckers are only getting an average payday of $622,000 each.
The funny thing is, compared to "bonuses" I've received in the past, this isn't half bad.  I mean, the gaming thingy didn't come with batteries but it's still kinda cute and retails for $40!
Since I'm in a glass-half-full kind of mood, my bonus actually bucked a trend: it improved from last year.  66% of companies won't award any type of bonus this year, compared to 59% in 2005.  Just like the Croc Hunter, Anna Nicole Smith's son and Peter Boyle – we hope the holiday bonus rests in piece.
And finally, to follow up on my last post about being forced to humiliate myself singing Christmas carols – it never happened.  Some dude put in his notice – causing minor chaos and making it impossible for me to flee the office long enough to Fa-La-La-La-La-La-La-La-La.