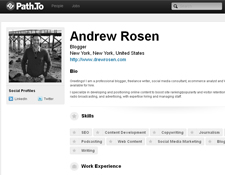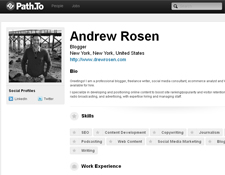 Picture this trend: there are more and more people wanting the same jobs, who can do what you can, just as well as you can and there aren't enough jobs to satisfy everybody. However you can distinguish yourself and elevate your perceived value beyond others. In order to do this I want to show you how creating an online biography can be hugely beneficial in making you stand out from other people.
The preferred service that I would recommend for creating an online biography is about.me however there are similar services that exist which have their own unique spin on the online bio including favlors.me, follr.com, and Path.to. However About Dot Me plays very nicely off the about pages listed in the menus of almost every professional website out there. I think other services can be vague in communicating what their purpose is or even come across as a little immature. Remember you are ultimately going to want to link your new biography from other places.
First things first, ensure you make your real name the overall heading for your biography page and avoid using nicknames or pseudonyms. This will ensure that the search engines, like Google have the best chance of finding and indexing your page and associating it with your name. This means you have the opportunity to display this page to anybody who should search for your name. Take into consideration that it's now very common practise for recruiters and companies to learn more about you from your online activity long before they even consider inviting somebody in to interview. You have the opportunity to show off a more tailored side to your digital footprint.
Aim to make the tone of your profile professional yet casual, whilst still talking about the things that are going to matter to the people reading your biography. Make sure your biography incorporates a little background information about yourself including where you're living, your city and country should be adequate. Also include what and where you're studying if this applicable. Depending on your circumstances this section may also be what job or industry you're currently working in or would eventually like to be working in.
Talk about some of your underlying values, principles or qualities. It might simply be what underlying traits or characteristics you find most appealing in other people or even your own working ethic. However do your best not to come across as aggressive or over sharing however deeply or passionately you feel about something. Likewise, don't list inappropriate details or get too involved, keep it light and avoid political overtones unless you think this is hugely advantageous for the area you want to get into.
Don't dismiss the importance of talking about your favourite hobbies and interests when job seeking. It's in your interest to help both recruiters and people responsible for hiring within a company to build a picture of who you are beyond your skills, knowledge or capabilities. Yes they most certainly want these things, however they also want to know that potential candidates are going to be a good fit or match for their existing team and company culture.
Most important of all, make sure you link to your newly created biography from your website, Twitter, LinkedIn profile, CV/Resume, do you have a business card? Maximise the way you can be found.
A trend that we have noticed is that it's increasingly popular for everybody else to have at least some say in whom their favourite candidate is. Having a short biography that they can easily be seen that quickly summarises and communicates who you are as a person will be a great asset to you in seeking full time employment.
About the author: Acre Resources provides executive recruitment services for individuals seeking health and safety jobs within the corporate sustainability, environment and energy sectors.