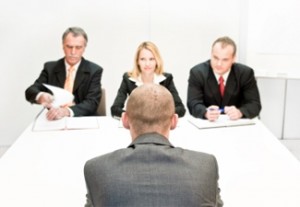 Interview preparation time? Read on!
Even with the economy showing signs of recovery, the job market is still tough. If you have managed to score an interview with a prospective employer, you have already beaten the odds. However, you should not rest easy. An interview provides the opportunity – and the obligation – to show off your qualifications to their best advantage.  That doesn't mean resorting to outright bragging. There are more subtle ways of demonstrating that you are the right candidate for the job.
Ask Thoughtful Questions
Doing your homework is a basic part of interview preparation. But how do you show off all your hard work? Nearly every interview ends with an invitation from the interviewer to ask any questions you might have. Instead of asking about vacation time and salary, use this opportunity to ask questions that demonstrate that you are in tune with the company's vision and plans.
For instance, if your prospective employer has planned a major expansion, ask about plans to encourage employees within the company to enhance their credentials to meet new opportunities. If your prospective employer has introduced a hot new technological innovation, ask about the process of developing the product and getting it to market. The idea is to show the prospective employer that you are not only current on relevant company issues, but that you are invested in playing a part in the company's future.
Create a Brag Book
These days, a résumé is not enough to sell prospective employers on your capabilities. Interview preparation should also include creating a brag book – allowing your achievements and accolades to do the talking for you. A brag book is a folder or binder that contains evidence of your career related highlights, including letters of recommendation and commendation letters, documentation of awards and prizes you've received, along with certification, licenses and similar accomplishments. If you have achieved expertise in a particularly relevant software package or piece of equipment, notation to that effect should also be included in your brag book.
Organize the brag book into logical sections that are easily accessible whenever the interviewer asks the inevitable "Why don't you tell me about yourself?" question.  Practice the routine so that the process seems natural rather than like a slick sales presentation. Presented correctly, a brag book ensures that you are able to put your best foot forward and highlight your most impressive career achievements in a concise way.
Close the Second Interview Deal
Especially for upper-level positions, it's not uncommon for employers to conduct multiple rounds of interviews. If you have been called in for a second interview, it means that you have made the short list of candidates still in the running, but that you also have more selling to do. Be prepared to discuss your greatest career achievements in detail, highlighting how your accomplishments relate to the job for which you are interviewing.
You may be hit with off-the-wall questions such as "should rooms necessarily be square?" Such questions usually do not have set "right" or "wrong" answers; rather, they are designed to show whether you are able to think on your feet. If you cannot think of a creative answer, it's totally legitimate to take a moment to consider your answer. Interview preparation should include being ready for this challenge. Put a thoughtful expression on your face to let the interviewer know you are considering the question. If you still can't come up with a clever response after a reasonable pause, a simple, "That's an interesting question. I think the answer depends on the specific circumstances," should get you off the hook.