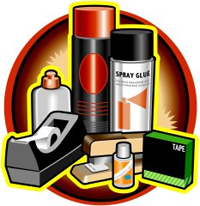 If your office supplies could talk, what would they say about you?
I know it sounds like a weird question, but ever since I received an Open Letter From My Keyboard, I try to be sensitive to the needs and feelings of my office supplies. We spend so much time together at my desk, it just makes sense to make sure we have a cordial working relationship. Plus, when I'm in a pinch, I want to know I can depend on the tools that make work possible.
After some thought, I figured what better day than today to check in to see how they're all doing.
ANDREW G.R.: Hey Stapler, how's it going?
STAPLER: Jam-free for over a year, and you acknowledge me now?
AGR: I'm sorry, Stapler. I'm just juggling so many projects –
PENS: We've noticed. Any chance you can keep us out of your mouth?
AGR: Sorry guys. It's a bad habit, but I like to think it's getting better.
SCOTCH TAPE: Whatever!
AGR: Scotchy, why the attitude?
SCOTCH TAPE: You left me for a binder clip!?
AGR: I'm sorry I don't come around the way I used to, but these cubicle walls have that annoying fabric that nothing sticks to.
WHITE OUT: Chill out, Scotch. I haven't seen a typewriter around here for years. In fact, I'm pretty sure my cap is officially stuck to my body.
PAPERCLIP: OWWWWW!!
AGR: What's up, paperclip? You pissed off too?
PAPERCLIP: It doesn't help that you're bending me as we speak. Ow!
AGR: Sorry!
<<I look up to find the scissors, an unruly band of rubber bands and a protractor (where the heck did that come from?!) staring at me.>>
AGR: Listen guys. I apologize. I know I've neglected some of you and potentially abused others. From this moment forward I am going to make an effort to be more attentive to your needs. I will keep you dust-free, oiled up and fully loaded.
PENS: You'll keep us out of your mouth?
AGR: Yes pens, sorry for the chew marks.
STAPLER: You won't slam down on me in anger?
AGR: Never again.
Allow this to serve as a reminder, fellow office dwellers. Treat your office supplies well and they will reciprocate. You never know when you'll need them in a bind. (Or when they'll sneak up on you and stab you in the back!)