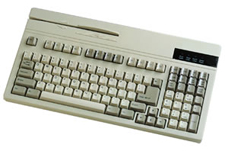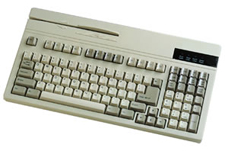 Dear Employee,
You're probably wondering how I'm typing this – but that's a foolish question – I AM a keyboard, after all. A dirty keyboard.
All day long I take your abuse and ask for little in return.  My beige keys turn to black as your grubby little fingers hammer away with reckless abandon.
Your thumb drives at my SPACEBAR relentlessly.  And you abuse BACKSPACE like a doormat under your muddy shoes.
I deserve some respect, that's all I'm saying.  Common courtesies, like the ones you extend to my office counterparts. When the mouse slows down, you clean the lint or replace the batteries. Screen smudge?  You break out the Windex.  But I sit here and act as a repository for your finger filth, potato chip crumbs, and flaky dandruff.
Don't believe me?
Take a time out from this letter (a cry for help) and shake me upside down.
Ew!
I'm not threatening to lock up during that critical report, keyboards don't roll like that.  But a little maintenance would be nice. An anti-bacterial wipe wouldn't kill anyone, except maybe some germs. A spray of canned air would feel like an ocean breeze.  Heck, even another upside down shake (it felt kinda nice)! Just clean me!
My clever shortcuts help you hide your digital forays from the bossman. My CAPLOCK light helps keep your passwords in check. And you already know my ESCAPE key is a Godsend.
So stop jerking me closer, pushing me away and treating me like a third-class citizen of the technology world.
You need me.  I need you.  Let's type nice.
Sincerely,
Your Dirty Keyboard