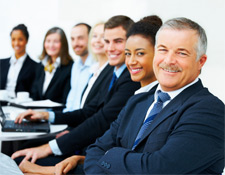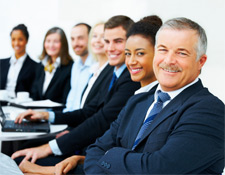 Employers are facing an unprecedented challenge in today's workplace – managing multiple generations of employees. From veteran workers volunteering with organizations to generation Y now entering the workforce in droves, this mix of attitudes, work ethics and life experiences sets the tone for intense workplace debates if not managed properly.
Addressing the generational demographics of your employees is essential for operating a functional business in today's diverse workforce. However, avoid approaching the management of an intergenerational workplace in a negative light. Too many employers attempt to change the inherent workplace mentalities of each generation – manipulating generation Y workers into accepting a 9 to 5 schedule or in making veteran workers become more computer literate. Ultimately, these employers are setting themselves up for failure.
To truly be successful in managing an intergenerational workplace, you must adopt policies that cater to all generational attitudes while ensuring each worker appreciates the differences between employees who are younger or older than their generation. The following are tips to overcome any current intergenerational conflicts and how to thwart future issues:
Manage individuals, not blanket policies – Offering a blanket policy in a workplace filled with employees from various generations likely isn't going to foster success. Rather, by being inflexible in scheduling policies or in the benefits you offer, you'll miss the mark with all employees rather than meeting the individual needs of each. To manage individuals, you must appreciate their differences and develop policies that speak to these varying preferences. For example, if your generation Y workers are pushing for flexible working arrangements rather than the traditional 9-to-5 schedule, stop resisting and work with these individuals to meet their needs.
Educate employees on diversity – People typically go through life with tunnel vision, only choosing to see things from a narrow perspective. However, in today's workforce filled not only with cultural diversity but also with generational diversity, the blinders must be removed to increase team harmony. Implement training policies designed to educate employees on diversity issues. These training programs can help pinpoint where certain employees may be experiencing conflicts with older or younger coworkers, allowing them to view the situation in a new light.
Create diverse teams – Isolation isn't your ally when addressing intergenerational conflicts in the workplace. Rather than grouping similarly aged workers together to avoid conflict, develop teams that include workers from multiple backgrounds. While conflicts may arise, employees must learn to work through the problems and still be productive to achieve workplace success over the long term.
By understanding what makes each generational worker tick and offering benefits or flexible schedules that cater to the preferences of each, you'll develop a more successful work environment. In addition, by developing training programs to educate each employee on generational differences with co-workers, you'll foster a more cohesive workplace to enhance productivity and employee morale.
Have you experienced conflicts in an intergenerational workplace? Do you have additional suggestions for solving these dilemmas?