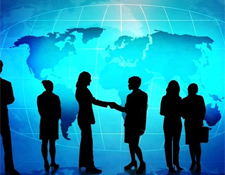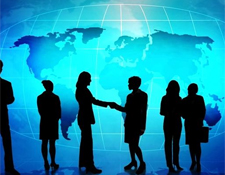 October is typically recognized as the month for goblins and scary images in celebration of Halloween, however few recognize it as a time for confronting "real life fears" as Diversity Awareness Month. Diversity Awareness brings to the forefront the issues that make us different but equal. The things that make our nation great as a global force.
Oftentimes stigmas, stereotypes and fears are byproducts of being "in the dark" about various religions, races, and regions. So this post on diversity awareness seeks to highlight some relevant themes and thoughts to increase your level of consciousness, shed some "light" and broaden your horizons!
Let's face it. We all feel more comfortable in the company of those with whom we share commonalities. Right?
It's why you'll often find athletes scoring time with other athletes, creative artists hanging out with other cool kats, nerds pondering the complexities of life with one another, or P.T.A. Parents congregating over coffee.
Matter of fact, if you take a little time for reflection, you'll probably find that in your own circle of associates, you tend to gravitate toward those that mirror your race, religious views, or work background
But as they say, "Variety is the spice of life."
So here are a few things you should know about the many cultures, habits, and folks that make our nation the great "melting pot" that it exists as today.
Not so trivial "trivia"…
Black Facts
Dr. Charles Richard Drew is the first person to develop a blood bank.
Sarah Boone invented the ironing board.
Benjamin Banneker is responsible for creating the first farmer's almanac.
The traffic light was invented by Garrett Morgan.
Thanks goes to T.A. Carrington for the stove.
"I am woman hear me roar!" Female contributions
Did you know that the circular saw was invented by a chick? Yep, Tabitha Babbitt.
Letitia Geer is the genius behind the medical syringe. And Maria Beaseley rescued us with the life raft.
Other facts and figures…
As of July 1, 2007, the Census Bureau estimates that 4.5 million American Indians and Alaska Natives were living in the United States.
As of July 1, 2050 it is projected that Hispanics will constitute 24% of the nation's total population.
And in other "breaking news"..
You might be surprised to discover that all Black folks don't eat chicken.
We don't all have "rhythm". Watch Dancing With the Stars" for real proof! 🙂
Ebonics is not the national language of African Americans.
And, no I don't know "Pookie" from 53rd street. Word!
So as this month comes to a close, we all should make efforts to increase our diversity I.Q, and make diversity awareness an ongoing goal. Not just one month, but throughout the year!
This is a post by Jennifer Brown Banks, a veteran freelance writer and pro blogger. She holds a B.A. in Business Management. Visit her site @ http://penandprosper.blogspot.com/