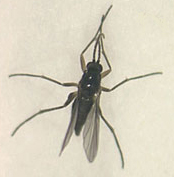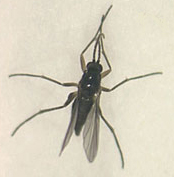 Everyday they fly in front of my face and escape my swatting hands. These damn gnats are everywhere at work! Now as a Buddhist layperson, I have made a conscious effort to let these little bastards live. So I realize that I might be part of the problem. However, I am sick and tired of them landing in my salad and heading straight for my mouth. So while you can't use a sledgehammer to kill a gnat you might want to try some of the methods below.
– Don't leave any food around
– Make sure the trash is emptied regularly
– They lay eggs in drains, plants and other "safe" areas with a food source.
Here's a recipe that should keep them away from your desk or anywhere else where they are uninvited.
Vinegar + Liquid Soup = Gnat killer
These little buggers like vinegar, and when they take a cool, refreshing drink, the liquid soap will kill 'em in their tracks.
Since I'm not a natural born killer, I'd be happy just repelling the gnats to someone else's cube. I know, not the best Karma, but it's not like I'm following my true instinct to bring in a can of hairspray and a lighter.
These guys claim that their vanilla-scented spray will keep the micro- annoying guys away.
I've read that the males often assemble together in large mating swarms. Can't wait to see that. I can only hope that it happens inside the big boss's office.
If you have a gnat solution, leave a comment below. These things are nasty.