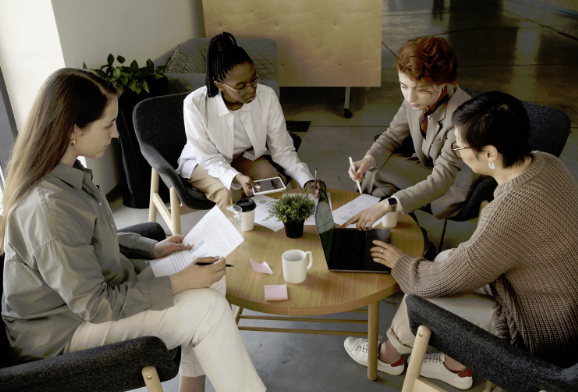 In today's rapidly evolving business landscape, effective knowledge sharing within organizations is crucial for success.
Implementing strategies that facilitate communication, collaboration, and continuous learning can lead to improved performance and employee satisfaction. Here are four actionable tips to enhance knowledge sharing at every level of your organization.
Get Easy-to-Use Software in Place
To enhance knowledge sharing within your organization, start by implementing user-friendly software that helps employees easily access and exchange information. Some key points to consider when selecting suitable tools include:
Functionality: Ensure the chosen software supports content creation, searchability, and collaboration.
Integration: Look for a tool that can be seamlessly integrated with existing platforms (such as Slack or Microsoft Teams) to create a unified workspace.
User Experience: Select software known for its intuitive interface, so learning the new platform isn't burdensome on employees.
A popular solution is deciding between a corporate wiki vs knowledge base. While both offer unique advantages, corporate wikis favor collaborative editing of interlinked pages, while knowledge bases focus more on structured content management ideal for technical documents and support articles.
Choose according to your requirements and don't forget to involve end-users in the decision-making process for higher adoption rates.
Encourage a Culture of Open Communication
Fostering an environment where open communication and knowledge sharing are valued can have a significant impact on your organization's overall success. Here are some strategies to promote this culture:
Regularly emphasize the importance of transparency and information sharing in team meetings, keeping everyone on the same page.
Promote active listening by encouraging employees to be present during discussions, ask questions for clarification, and avoid interrupting others when they're speaking.
Create safe spaces for diverse perspectives by actively addressing biases and embracing team diversity; this inspires greater cross-functional collaboration with unique insights.
Use tools like anonymous suggestion boxes or online feedback forms to ensure all opinions are heard without fear of judgment or reprisal.
Remember that building such a culture requires ongoing effort from leadership and buy-in from employees throughout every level of your organization. Consistently demonstrate these values in practice to influence positive change.
Implement Cross-Team Collaborations
Cross-team collaborations break down information silos, allowing employees to learn from one another and develop new skills. Here are some tips to encourage cross-functional collaboration:
Assign interdisciplinary projects: Form teams made up of members from various departments for tasks requiring diverse expertise; this helps share knowledge across different functions.
Hold multi-department workshops or team-building exercises: Invite representatives from all areas in the organization to share insights, discuss challenges, and work on team bonding activities together.
Facilitate job-shadowing or rotation programs: Encourage employees to spend time working with colleagues outside their usual roles as a chance to soak in unique perspectives and extend their skillsets.
Promoting interactions between different units within your organization lets you create an atmosphere that fosters collaborative problem-solving while enhancing individual learning experiences. This not only improves overall performance but also establishes a supportive network where everyone can benefit.
Foster Mentoring and Utilize Feedback for Growth
Combining the nurturing power of mentoring with continuous improvement through feedback loops can effectively enhance knowledge sharing and professional development. Here are ways to implement these strategies:
Establish a robust mentoring program: Pair experienced employees with less-experienced colleagues to facilitate personalized guidance, skill-building, and mutual growth.
Offer reverse mentoring opportunities: Encourage younger or lower-level staff members to share their unique insights or tech-savvy skills with senior counterparts; it's a win-win situation.
Conduct regular performance reviews: Provide constructive feedback on individual contributions while also discussing personal goals, improvements, and learning needs based on organizational objectives.
Implement an ongoing feedback culture: Promote open communication channels where team members feel comfortable giving and receiving corrective input as well as acknowledging positive efforts.
By integrating such practices into your organization's DNA, you'll nurture an environment that values continuous learning, employee empowerment, and long-term success. It will also help your entire organization grow and evolve over time.
The Bottom Line
Facilitating a culture of knowledge sharing is key to unlocking your organization's full potential. Invest in these strategies and watch your teams flourish with enhanced collaboration, adaptability, and overall productivity each day.