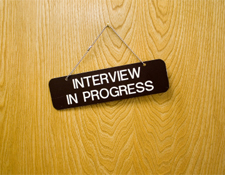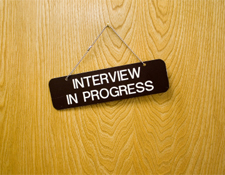 A much larger extent of our communication is done via our body language, than what we say. For this reason, it pays to brush up on your 

non-verbal communication skills

 prior to attending an interview. How you come across is as important as what you say; your behaviour speaks volumes about your character. Any interviewer will be looking for and picking up on these cues to ascertain if you are an ideal potential employee.

Deep Breaths

While knowing how to respond to questions and having appropriate questions prepared is important, how the replies and questions are delivered is just as fundamental as the content of what you say. When you are nervous there is a chance you may trip over words, mumble or talk too fast, or interject sentences with lots of "urms". Taking a few slow, steady breaths will help lower the heart rate and make you feel calmer when you speak, delivering your answers in a more relaxed a measured manner. Practicing this before the interview will help identify any possible problems that can be addressed.

Keep your tone of voice level and relaxed and keep to the point

A fluctuating pitch can indicate lack of composure. Don't go too far the other way and speak in a monotone voice. Not only does this sound too rehearsed and robotic, it's not engaging and can make you sound bored.

Regular eye contact signifies honesty and confidence, whereas looking away or at the ground indicates shyness or a subservient attitude. It could be interpreted as dishonesty which brings up questions of trust. Though regular eye contact is good, just don't over do it. Holding someone's gaze continuously can be interpreted as starring and can be intimidating.

Smile

Smiling will make you make appear more confident and, by nature, we are drawn to a smiling face more than one that looks sullen or drawn. Smiling also helps lower cortisol levels that are released by the body when stressed, so will actively help you feel, as well as appear, relaxed.

Good posture

Keep your posture relaxed and balanced. Project sincerity by slightly leaning forwards but not so much as to crowd the interviewers personal space. Leaning back may be interpreted as not caring or closed off rather than being laid back.

Don't restrict yourself from being expressive with your hands, but everything in moderation, avoid wildly throwing your arms around. Being animated demonstrates enthusiasm and shows that you are enthusiastic about the job opportunity. Keep your hands out of your pockets as this makes you appear shut off. Instead have your hands held in front of you, ready to gesture and shake hands if necessary. Doing this will make you appear more approachable, open and ready to engage.

Be aware of any nervous habits

Things like constantly putting your hands through your hair or picking at your nails. The interviewer will pick up on these and they can be distracting or even annoying.

The Bigger Picture

It helps to remember that the interviewer will expect you to be nervous so don't stress yourself out about having to give a faultless performance. Just by being aware of this can help you feel less worried about how you perform and as a result make you more relaxed.

Bio: Jen Smith is a Life Coach, Mentor & Writer. She has tried many career paths herself and now helps people achieve their goals and dreams.