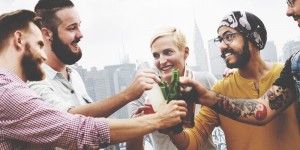 The time of year that brings us carols and hot chocolate also needs to bring us holiday team building ideas that make professional stress an afterthought. The Christmas holiday season creates more stress than the stress created during any other time of the year. From planning holiday feasts to purchasing gifts for the family, the iconic chant of ""Ho, ho, ho" has turned into the frantic "Go, go, go." Stress turns up a notch in the workplace, as companies place pressure on employees to meet end of year deadlines, while staying well below budget.
Charity Starts at Work
Charitable work performed by the private sector increases significantly during the holidays. Make charity work an exciting event by running a contest that rewards everyone for their hard work raising money and/or goods for charity. Divide department teams into between four and eight employees and allow each team to create a charity drive that benefits a non-profit organization. Each team selects a charity and a financial goal to exceed. Prizes handed out to reach team can include matching donations by the company or gift certificates to a popular restaurant.
Decorating Party
Many companies raise the employee bar during the holidays by scheduling fun holiday team building ideas. As one of the most popular team building ideas, organizing and running an office holiday decorating party brings your team closer together. Ask volunteers to form a group that searches for the most beautiful holiday tree. Place a group of team members in charge of decorating the office. Another group of team members can provide the refreshments. Holiday team building ideas have no limit for planning office decorating parties.
Holiday Gift Exchange
Holiday gift exchanges bring the entire team together to share holiday cheer. Reveal each team member's secret Santa during the holiday party and make sure to set a limit on how much employees should spend on gifts. White elephant holiday gift exchanges enhance the entertainment value of exchanging holiday gifts. Holiday team building ideas should never force employees to participate, as is the case with any type of holiday gift exchange.
Holiday Progressive Dinner
Nothing builds team unity better than allowing team members to share a slice of their lives with each other. Progressive dinners open team member doors in a tribute to old school neighborhood camaraderie. Assign a course to each team member that volunteers to host a leg on the progressive dinner tour. Time and stomach limits prevent everyone from hosting a leg on the culinary tour. However, invite each team member to enjoy the home cooking offered by fellow workers.
Company Outing
The holiday season calendar overflows with events appropriate for company outings. From the official tree lighting ceremony held downtown to a formal holiday themed dinner, your team has plenty of opportunities to bond during the holiday season. As one of the more established holiday team building ideas, holding a company party helps your team gel. To build a stronger team, ask each team member to fulfill a planning role that ensures the holiday outing goes off without a hitch.
Winter Olympics
No, your version of the winter Olympics doesn't have to include one athletic event. Some companies host Winter Olympics that include professionally related competitions. Health care workers practice emergency preparedness skills and attorney compete to see which one makes the most compelling legal argument. For sports, every activity from ice skating to cross-country skiing is in play. For warm climate competitions, incorporate Summer Olympics events such as swimming and volleyball.