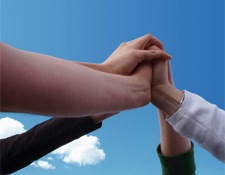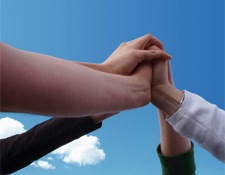 Team building is an important tool in creating a well-developed and efficient work environment. From simple bonding exercises to bespoke workplace simulations, there are a lot of options out there: Here are 10 easy and effective team building ideas that can be used in any company.
(1) To help new teams to get to know each other, an easy ice-breaking exercise is to let staff guess each other's names. You're likely to raise a few laughs and it gets people re-evaluating their first impressions of each other. (2) Or, to flex employees' creative muscles a bit, hand out pens to everyone and have them roughly design a personal logo that they feel reflects themselves, then have the group guess which logo goes with which person.
(2) The issue of touching is always a personal one in the office. What some people might consider a friendly pat on the back, others might find inappropriate.
(3) Provide staff with a few different scenarios and let them brainstorm whether they're appropriate or inappropriate. That way staff get an idea of each other's boundaries as well as company policy.
(4) One option is to ask the group to think of the characteristics of a celebrity who has a really successful year. You can then encourage the group to think of how they can display these characteristics in the work place. You can also use the flipchart to bring some of the fun of classic parlour games into the office
(5) Try a simple game of Pictionary; you'll be surprised how quickly people start working together when they're on familiar ground.
(6) Group presentations are a great way to get people talking and if you choose a casual topic like favourite colour or favourite sports team – it can be fun to. Divide staff into groups and give them 30 minutes to come up with their pitch.
(7) For a more creative twist have the groups make little models with paper or stationary from around the office and then ask them to create a presentation showing why theirs is the best.
(8) Another use of craft in team building is to hand out paper towels to groups and ask them to make the tallest free—standing structure they can without using any other materials. It's a fun task and you can encourage some critical thinking in the review period.
(9) Another clever exercise is to divide your employees into small groups and ask them to complete normal office tasks with their non-dominant hand. You can then lead this into a discussion about coping with change in the workplace.
(10) Finally, here's a simple task to round out a team building exercise.  Ask each person in the group to make an acronym for TEAM which they feel reflects their team building experience (for example, Totally Entertaining And Manic). It's a light note to end on and often provides some useful feedback.