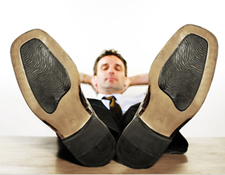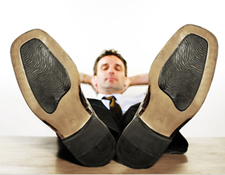 We've already explained how the workplace is afflicted with Parkinson's Law. So since we'll never beat the people dragging their feet at every turn, let's join 'em. Since I work with the da Vinci of time wasters, I've been tracking his every move and am dishing out his secrets.
Since I don't want to name this employee, let's call him Chatter. He's a master of doing the minimum while attempting to look like he's busy as a bee. He's productive – at watching time pass. Here's what I've observed.
Eat, All Day Long
I swear that this dude eats all three of his meals at his desk. At 9am it's the cereal. At 12pm it's something with garlic. At 4pm it's more stuff with garlic. No matter what time you approach his desk, he's chewing. The brilliance in his plan are the small elements that make up each meal. Let's take the steps included with breakfast for instance.
– Get bowl and spoon from lounge
– Walk to back of building to get milk
– Bring milk to desk
– Study which cereal to eat
– Pour milk
– Return milk to fridge
– Eat cerael
Chatter manages to add extra steps to everything he does. And seconds equal minutes which equal hours, etc.
Whenever you approach his desk, you feel badly that you are interrupting his meal. After all, he's so busy with so many concurrent projects that the poor guy has to eat at his desk! People will either leave him alone or he tells them he'll get back to them in a few minutes.
Bathroom Breaks
I've seen many people get reprimanded throughout my career, yet I can't recall a single soul getting an earful for spending too much time on the office throne. Chatter is always seen entering with the New York Post or the latest issue of OK! Perfect reading material for a power stall nap.
The good news is that he does wash his hands. Of course, he lathers them up nice and good and opts for the hand blower. That's a good two minutes on hand washing alone per trip!
Given that Chatter always has a bottle of water in tow, you can only imagine how many visits he makes a day.
Mr. Messy
There's more then just cereal boxes and bottles of water strewn about on Chatter's desk. Stacks of magazines, random folders and papers are littered about. Now you're probably asking where's the time-wasting strategy here? Ah, it's two-fold, friends. First, the dude prints out everything. EVERYTHING. That alone takes time. But what really trips up the clock are his weekly cleaning sessions. Usually on a Friday at about 3pm you will find him sauntering over to the supply closet for Windex. Who can argue with a guy who wants to keep his desk clean?
Talk It Up
I didn't pull the name "Chatter" out of thin air. This guy gets involved in every conversation. The funny part is, he hardly contributes. He'll stand, arms crossed, standing over someone's cube just nodding. And he repeats. And repeats. I probably should have named him PHILabuster – cause that's what he does at meetings too. A normal human beings face would turn blue – but not Chatter. He must be an Olympic swimmer because he never comes up for air. No one listens and he could care less. Cause as long as he's talking, the clock continues to tick. It's amazing how I've seen this guy in a room with 15 other people and no one will shut him up. Maybe they're just wasting time too.
Standard Stuff
Chatter relies on a lot of the everyday stall tactics too. Endless Web surfing, plenty of leaving early for doctor's appointments, and asking for as many deadline extensions as the boss will give him. It's always seemed to me that Chatter is on borrowed time. And even that he knows how to drag out to a bitter crawl.