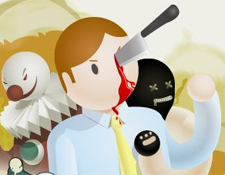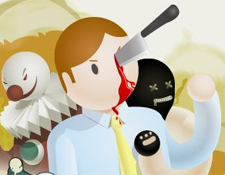 Our buddy Duane over at the Commute Smarter blog tipped us off to a game that has a concept that most of you can relate to. The premise? You're so miserable at work that you have "Five Minutes to Kill Yourself" before you have to attend another meeting. You can take yourself out in a variety of ways! My personal fave – stapler to the head. Ah, God bless those twisted folks over at Adult Swim.
You use the arrow keys to storm around the office. I found the controls a little awkward, but it could just be my lack of video game skills.
It's a solid concept. I've often thought of drowning myself in the toilet or sticking a wet paperclip into an outlet… so this game hits home.
You can play it here.
And just like Duane, please be sure to send us any career-related links for us to share on the blog or podcast.
And don't forget to kick anyone in the ass who uses the word "hump day" today!