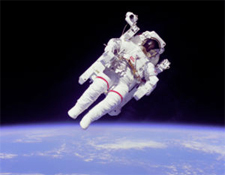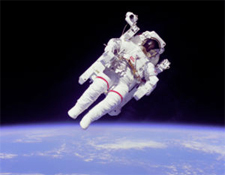 Holly over at Worksona (a great Web site which we will talk more about in the future) tipped me off to a sweet interview with real-life astronauts Cady Coleman, Chris Cassidy, and Marsha Ivins. If you're under six feet tall, can resist passing wind in a spacesuit and enjoy time alone – this might be the job for you!
In episode #51 of the Working Podcast we spoke about how much money a year astronauts rope in. But this interview on "This American Life" reveals, from the space cowboy's mouths, what it's like to be on the NASA payroll in the highly coveted job. Among the things you'll learn:
– Yes, they have business cards. And yes, they say "astronaut."
– Almost 50% of active astros have never been to space. Talk about being benched!
– Just like you and me, they are forced to attend a lot of meetings.
– They admit that being an astronaut is "not rocket science."
It's a nice interview and worth checking out. As you guys know, if you have something fun and useful for the blog or podcast, please send it on over!
I'd also like to send a quick thanks to all of our loyal readers and subscribers. When I started the podcast over two years ago, I gave up on the idea of a blog since the genre felt flooded. However, you have proven me 100% incorrect. In fact, I've been spending more time on the blog then the cast! It's a lot easier to produce… so thanks to all!