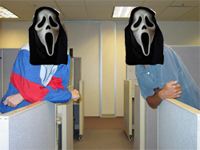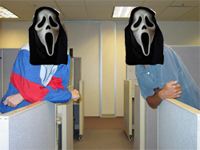 Catharsis is a form of emotional cleansing first defined by the Greek philosopher Aristotle. But Aristotle didn't work in a cube. This Sunday we'll be releasing episode #54 of the Working Podcast and one segment on the show has an interview with Craig of JobVent.com – a neat site where employees can anonymously rate their company. So many career sites seem to be focused on casual rants and raves – and it got me thinking – is all of this venting a good or bad thing? I'm a positive guy, but let's be honest, you guys want the cons first!
CONS:
*Venting is short-term relief. You will be tricked into thinking you solved the problem. In reality you just exhaust yourself. Once your energy rebuilds, so will the anger from the root of the issue.
*Venting, whether verbal of physical, allows you to rehearse negative behavior. In order to become a happier person you should be doing the opposite – rehearsing positive behavior.
*Venting causes you to relive a negative experience. Some things are better left in the past. If your boss gave you a dirty look at the office, why resurrect it at the dinner table?
*Venting is passive. Instead on concentrating on solutions you end up moving backwards. The idea is to move forward and not backwards.
PROS:
*Venting allows you to release the fumes of negativity. If you allow this noxious blend to build and build and build…it could end up UGLY! Avoid an emotional outburst and let out the steam slowly and regularly.
*When you vent it should be focused. I know it's impossible to ask you to add venting to your Outlook calendar, but the more clear-minded you are, the better odds that you'll identify the true root of your annoyance.
*Try to turn venting into a positive activity by training yourself. Instead of cursing, shouting or throwing something – get yourself to replace those activities with some positive stuff. When you feel the urge to vent, try deep breaths, an exercise routine or simply think happy thoughts.
Or do what I did…start a blog! 😉 I hope you find these items useful. I'd love to hear your take on venting. Please leave a comment below of call 888/786-1080 and leave a free voice mail message. Don't forget to subscribe to the podcast so you don't miss our upcoming interview with JobVent.com.