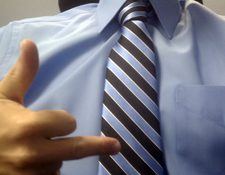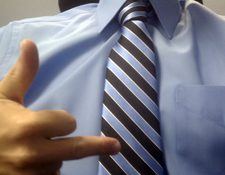 I've already told you that wearing a suit everyday to work sucks. Big time. And the biggest problem is the necktie.
Born several hundred years ago thanks to Louis XIV's eye for haute couture, the necktie fashion trend crossed over to England, where gentlemen displayed their status with colorful cloths hung around their necks. Thanks for nothing guys! (Read more about necktie history)
While many industries and companies have relaxed their dress code, some businesses, like mine, have held on to the notion that dressing up is part of playing a professional. I know they have their reasons, and some of them I get, but overall, if you're sitting in a cubicle all day with limited interaction with the outside world, it all seems a bit pointless.
Here are eight reasons why dressing up in a necktie is a royal pain in the ass.
– It's uncomfortable. Having something pressed up against your neck and putting pressure on your trachea, just isn't normal.
– You get judged. When I walk into a store, I find that shopkeepers are generally nicer to me when I am dressed more casually.
– Dry cleaning. Let's be honest, most of us dudes rarely, if ever, send our ties to the dry cleaners. But when it comes to dress shirts, which are a necktie's accomplice, we have no choice. It's a money suck, time consuming, and just annoying.
– Expense. I've spent more money on a nonessential accessory than I have on things that I actually need (i.e. – a pair of pants!). Sure you can get a nice necktie on the clearance rack for about $10, but when you fall in love with that one-of-a-kind striped tie, you can expect to tap into your savings account.
– Knots. Most ties never knot the right way. There are many factors you never think about: the width of the material, the length of the tie, etc. Plus, when you're rushing in the morning to get out of the house, the damn things never knot right.
– Length. Along with the perfect know, it takes a pro to get the length just right. Too short and you look like a clown, too long and you look like a retired clown.
– Match game. It's impossible to know what matches with what. Stripes and polka dots? Argyle and plaid? Sometimes it seems there are no rules…yet I secretly suspect the fashion police are always watching.
– Aging. Put on a tie and age at least five years. And the days I have a beard, make it 10. Casual dress definitely gives you the appearance of being younger than you are.
Yes, I'm grateful to have a job. And yes, sometimes it does feel good to dress to the nines. But on a daily basis, wearing a necktie seems like an antiquated way to wear your status on your shirt – and that makes it mega lame.
Anything to add, dear readers?