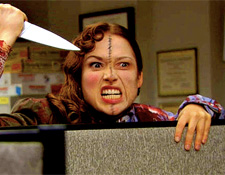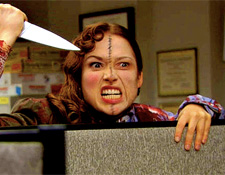 Office Halloween parties are becoming as popular office Christmas parties. Even though it's a time to celebrate, you don't want it to become that story that everyone's whispering about for
months (the kind where they stop whispering when you come in the room). All office parties are a great time to mingle with your boss and co-workers and to have a little fun, but you should
remember to remain professional at all times. It may be a party, but you're still at work. Here are 5 tips for how to navigate the office Halloween party:
Be Festive
Parties are a great opportunity to relax and get to know your boss and co-workers on another level. Take the opportunity to show that you're a team player and someone that people want to know. Be a full participant in the festivities: wear a costume, get out on the dance floor, and talk to a wide variety of people that you don't already talk to every day. Don't be that person standing in the corner with your drink and not talking to anyone. Show people that you know how to have a good time while also taking advantage of the opportunity to network. You may find that common ground you discover at a party could lead to new business relationships later.

Wear an Appropriate Costume
People take advantage of Halloween and dressing up in costume as a way to express themselves and to become someone else for a night. But if you decide to become "naughty nurse" for the night, you should do it at a friend's party and not at the office party. Don't choose costumes that are too revealing or suggestive. Also be mindful of costumes that could be offensive or have a double meaning. Anything that makes a political or social statement is off limits, too. Keep it clean and PG-13 and you should be fine.
Keep Conversation Light
Though Halloween does not have a strong tie to any religious celebration, there are many who do not celebrate it for religious reasons or who are uncomfortable with its overall themes. Don't engage in any discussion about religious or cultural issues related to Halloween or otherwise. Keep the conversation light and avoid topics that might become emotionally charged, such as religion or politics.
Don't Get Sloshed
Don't drink.  drinking to the point that you're walking into the buffet table — or dancing on it — and you have a problem. Make sure that you're remembered for being the life of the party for your witty and engaging conversation, not for passing out in the middle of the dance floor.
Be a Team Player
Finally, show that you're willing to be a team player by offering to help. Bring a dish and offer to stay and help clean up when the party's over. Showing this kind of team spirit will show your boss and your co-workers that you're willing to make the same efforts in your work.
Halloween parties can be a great time to have fun with your co-workers and to let your boss get to know more about you. Keeping these tips in mind can help make sure you leave a good impression and make the most of this informal networking opportunity.