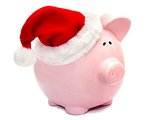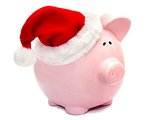 Santa hooked you up. You got sweaters, watches, and shiny new shoes. Sure you're lookin' sharp – but you still have to report to that same dead end job tomorrow. Your family should have known better (haven't you complained enough?) and bought you what you really need: something to save you from cubicle misery. Hopefully you got some cash. If so, here are four ways to spend it to get your career on the right track.
Resume Revamp
You never could get those bullet points lined up right. If you are leaking onto a second page and you're only on your third job, it might be time for a re-write. It's a small investment considering you can make that money back in a single paycheck. Don't shrink that font to an 8-point, let a stranger make you sound a whole lot better than you are! *Listen in on the 01.07.07 relaunch of the WP for your chance to win a CV overhaul!
Career Counselor Sessions
Stop talking and start doing! A good career coach can not only help you narrow down your interests but they will help you get there. From setting up a game plan to providing you with the tips and tools to make it a reality, sometimes it's the jumpstart your stagnate ass needs! If you're skeptical that you're going to get the same tired advice – I respect that. But personally, I'm partial to the ladies at Make the Leap. They are creative and realistic – and will tell you how it really is! To learn more about what a career coach does – listen here.
Continuing Education
In person or online, getting a degree is expensive. However, it all starts with a single class. Even if you tell a potential employer that you are in-progress in obtaining that degree, they will be impressed (just make sure it pertains to that field). Besides, you know how quickly time flies. Start now and you'll be done before you know it. There are tons of certificates you can get to. A great place to start to make sure you're enrolling with an accredited school is GetEducated.com.
Learn a New Language
Experts say it'll keep your brain active, help you live longer and greatly increase your chances of landing a new job. (The ladies think it's sexy too!) Folks like Rosetta Stone have made it easier than ever to become multilingual. You can learn at your own pace and do it right from the comfort at home. You'll be saying "necesito un nuevo trabajo" or "ho bisogno di un lavoro nuovo" in no time!