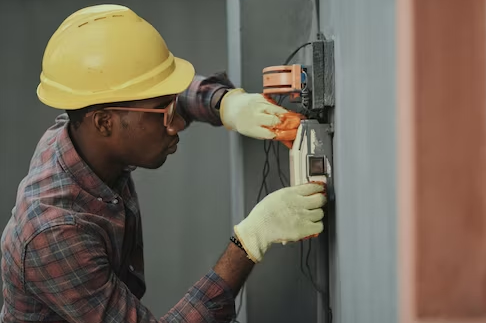 A career as an electrician has become increasingly lucrative in recent years, but in the face of tough competition, just skills and certifications are no longer enough.
Becoming a successful electrician requires more than just technical knowledge and practical skills. While technical expertise is undoubtedly crucial, it is equally important to possess a range of soft skills to enhance your effectiveness and reputation in the field.
This article will explore four essential soft skills that every aspiring electrician should develop to thrive in their careers.
Communication Skills
Effective communication is an indispensable skill for any profession, and being an electrician is no exception.
As an electrician, you frequently interact with clients, colleagues, and other professionals, such as architects and engineers. Clear and concise communication is necessary to understand clients' needs, explain technical information, and collaborate with team members.
Furthermore, communication extends beyond verbal interactions, as electricians will be required to interpret complex electrical diagrams, blueprints, and technical documentation, among other things, while having to effectively communicate the same with team members and customers.
This makes developing strong reading comprehension skills vital to ensure accurate understanding and implementation of electrical plans and instructions.
Problem-Solving Abilities
Problem-solving abilities are crucial for electricians to address complex issues and find practical solutions for the same. There is no one trait that can be dubbed problem solving abilities, as this ability comprises a whole variety of traits that are acquired through practice and experience.
So, problem solving abilities as an umbrella term constitutes analytical skills to break down complex issues into smaller components, followed by resourcefulness, which involves knowing the right tools and materials for the right job, while also knowing where to find them. Similarly, there is adaptability, systems thinking, collaboration, and other critical skills.
These skills and traits, however, cannot be acquired via training and workshops alone, they are often developed over time as professionals gain more experience. If a beginner takes an hour to analyze a problem, an experienced tradesmen will be able to do the same in 20 to 30 minutes.
Customer Service Skills
Exceptional customer service skills are vital for electricians, and whether you work in residential or commercial settings, providing outstanding service is essential for client satisfaction and building a solid reputation.
Clients rely on electricians for their technical expertise and professionalism, reliability, and ability to promptly address concerns.
Being attentive, respectful, and empathetic toward clients' needs demonstrates a high level of customer service. Furthermore, electricians should be skilled at explaining technical concepts in a manner understandable to clients without such technical backgrounds.
Good customer service leads to satisfied clients and fosters positive word-of-mouth referrals, which can significantly add to your success.
Independent Study Skills
Independent study skills refer to the ability to engage in self-directed learning and be responsible for professional growth and development. As an electrician, staying current with industry trends, new technologies, safety regulations, and standards is crucial to remain relevant and excel in the field.
Most trade schools and diploma programs provide a strong foundation to help you get started, but over time, it is up to individual tradesmen to keep themselves updated. This, of course, requires plenty of self-motivation and discipline, which isn't easy to come by.
Many training programs have started adapting to these ever changing trends, and one such electrician training program in New Jersey now offers ongoing training and education programs to help its candidates rise up to the levels of master electricians, electrical contractors and project managers.
Final Words
Being an electrician is without a doubt one of the most lucrative careers to pursue today, with substantial benefits, especially since it doesn't require a college degree, and most people can graduate and start earning fairly quickly, with little to no student loans.
That being said, in an increasingly crowded field, finding work consistently requires being on top of your game, and delivering exceptional value to customers, which requires strong soft-skills, in addition to being technically proficient in your work.