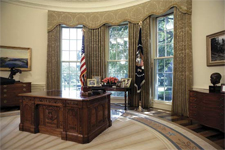 Most of us have heard of the infamous $600 toilet seat or how the Army spent $250 on an ordinary wrench. If the government can spend $600 on a toilet seat or $700 billion on Wall Street's debts, I can only imagine how frugal they are when it comes to decorating the oval office.
Regardless, I thought it might be fun to compare what your (I use this term loosely) office has to offer versus what the White House's Oval Office does. You know, because it will make us feel better about our workspace AND how our tax dollars are spent….
Your office: Let's start with the basics: does your office have a door? A cubicle door does not count. Sorry.
Oval Office: This office has a total of four doors: one opens to the Rose Garden, another to the secretaries, another to the West Wing, and the last one opens to a dining room and private study.
Your office: How many windows can you claim? Feel free to include hand-drawn windows you constructed to spruce up the cubicle.
Oval Office: The three main windows (floor to ceiling nonetheless) reside directly behind the President's desk. There are also three additional windows in the oval office, resulting in a total of 6 windows.
Your office: Is your desk built into your cubicle or is it freestanding? What materials do you think went into the construction of your desk?
Oval Office: The famous Resolute desk is the most popular desk that is used by most presidents. It was crafted from timbers of an abandoned British ship (the H.M.S. Resolute) that was discovered by an American ship and returned to England. The desk was a gift from Queen Victoria in an effort of goodwill to our country in 1880.
Your office: What is your company provided budget for decorating your office? I promise I'm not laughing while I'm writing this.
Oval Office: Unlimited? This one remains unknown, but I can't imagine that there is a price tag to showing off with our tax dollars.
The Oval Office must be extraordinary to foreign dignitaries, so grandeur is called for with this headquarters. And let's face it – if anyone deserves to have an impressive office, it is the President. This position is considered the most powerful and important job in America.
How does your office stack up compared to the Oval Office?