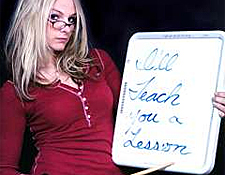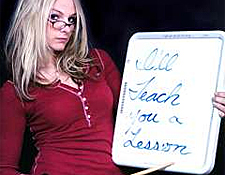 It's back to school time and the Website Rate My Professor is soaring. Over 6.8 million college students have spread the word about over a million professors. Students can find out about workloads, potential mood disorders and the ever popular, is the teacher hot.
About 10 years removed from college I really have no use for the site (except to see how certain ex-girlfirends are performing and if some of the old timers are still alive.) However, it brings up an interesting issue: how would YOU like it if your career now had this kind of transparency?
Sure, there are similar sites, like ones for health professionals, etc. But what if people were allowed to publicly grade what you do – regardless of what it is.
Dave's a horrible waiter.
John's a clueless IT guy.
Brandy gives the worst massages.
As the Web grows, it becomes harder and harder to control what people say about you.
Famous people have always dealt with public scrutiny as part of their job description. Hell, they make enough money to cover the embarrassment. But what about the regular joes pulling in $50k a year?
As you know, this can be detrimental to your career. A recent survey showed that 77 of 100 recruiters use search engines to check out job candidates. I know I sound like a broken record, but I think you need to regularly survey the Web landscape and see how you're being represented. Here are five quickie tips:
– Buy YOURNAME.com. Even if you don't plan to do anything with it, it could be the best defensive move you can make for six bucks.
– Survey social networking sites. Don't just search yourself, search your friends too. A single lapse in judgement by a peer could cost you big time. While you might not be a user, I would sign up for every single one.
– Sign up for Google Alerts. Any time someone posts your name or selected phrase, you will receive an e-mail with the link and the specifics. Rather than spend hours searching for a needle in the haystack, let the 411 come to you.
– Sign up for a ClaimID. This will provide people who are searching you a real picture of your identity along with Web assets that are truly yours.
– Solicit LinkedIn recommendations. I guarantee almost anyone you ask will say yes. As LinkedIn grows, these results will return early in people's searches.
Plenty of other articles have already covered the issue of protecting your online reputation. But after having a few people reference RateMyProfessors over the past few days, I wanted to at least skim the subject.
I look forward to your tips in the comment section below.